The live streaming of A Wedding, A Funeral & Lucky, the Fish on 1 May 2020 brings back the original cast and director of the 2014 production. We speak with actor Daniel Jenkins and Director Samantha Scott-Blackhall and found out more about a not so lucky fish and how different this reading is going to be from the original production.
Q1: What is this play about to you?
Samantha: The play, A Wedding, A Funeral & Lucky, the Fish, at its core, is about the solidarity of family and what "love" really means. It is also about a not so lucky fish haha!
Daniel: The play is about families, futures, funerals and fish!
Q2: How is it like revisiting this play since 2014?
Samantha: Dora's play has stood the test of time! Not only the play's themes, but also its humour and wit! Revisiting this play has also brought back a lot of fond memories. All the adventures of putting a play together. The cast and I are remembering a lot of the "did we do that?" moments and the "what did we do with the fish?" questions! It's been a treat.
Daniel: It's been lovely revisiting the play. It's such a funny and entertaining script and a wonderful cast. It's been great to all meet up again after so long. We have already been in fits of laughter so hopefully the audience will too.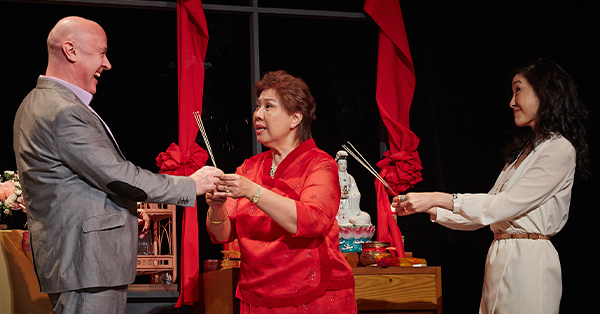 The 2014 production of A Wedding, A Funeral & Lucky, the Fish. Featuring (from left) Daniel Jenkins, Catherine Sng and Amy Cheng.
Q3: What can the audience expect from watching this on Facebook Live?
Samantha: We won't be able to recreate the set and lights part, but we are doing our best to ensure what the audience hear will delight us the same way it did 6 years ago. It is a hilarious play! Given our current situation, it should bring some laughter into your home.
Daniel: It is obviously different from watching a fully staged production, however, the actors are live, and the jokes are many. There are some wonderful one liners, as well as lovely touching moments and farcical situations. It will be an entertaining, surprising and hilarious hour.
Q4: What are the challenges you've both faced rehearsing for this online dramatized reading?
Samantha: With the form completely changed, online rather than on stage, a lot of adapting has had to happen. The play was a fairly physical one, therefore we have to ensure the pace and physicality emerges in the dialogue instead. The other massive challenge is negotiating technology! We spent a very decent amount of time in our rehearsal the other day sorting out our computer setups!
"Catherine, we can't see you!"
"Oh no Isabella froze again"
"Amy! We can't hear you"
"Dan stop giggling you're making us all giggle"
Who knew online readings could be so funny! All thanks to our technological noob-ness!
Daniel: Apart from a few technical issues at the beginning we have had to rethink some of the visual comedy and the way characters interact with each other. It becomes more text centred rather than physical. We have also tried to think of some video trickery to bring few surprises so tune in to see! :)
Q5: In one sentence, why should people come online to watch this?
Samantha: Because the cast are hilarious!
Daniel: A Wedding, A Funeral & Lucky, the Fish is a wonderful way to spend an hour revisiting this hilarious Singaporean script that will have you crying with laughter during these difficult times. We could all do with a bit of cheering up and this play will not disappoint.
A Wedding, A Funeral & Lucky, the Fish was first presented in March 2014 under SRT's Stage Two. This was part of a dedicated playwright incubator programme with esteemed playwright David Henry Hwang as mentor and Jack Bradley as dramaturg. A Rehearsed Reading of A Wedding, A Funeral & Lucky, the Fish will be live streamed on Facebook on 1 May 2020 at 8pm. Click here to find out more.