The impact of COVID-19 on the arts community continues to be profound. With very limited audience numbers at performances, every arts company and freelance practitioner continues to feel the financial impact of the pandemic on our livelihoods. The arts need everyone's support now more than ever.
Your donation as a Friend will go a long way to supporting a non-profit charity like SRT. Your invaluable contribution will directly enable us to continue paying our artists and employees who work so hard on delivering shows that inspire, enrich and engage.
"In these tricky times, it's even more important than usual to give our support to theatre groups like the Singapore Repertory Theatre. I know that all donations will be go a long way to supporting the SRT Team and renewing the Friends of SRT subscription will be crucial if we wish to continue to enjoy the world-class performances that the SRT produces every year.
The SRT productions that we have enjoyed as an audience have transported us to another reality, entertained us with stories and provided us with wonderful shared experiences. I am proud to be a Friend of SRT and I will continue to give my support."
- Nithia Devan, Friend of SRT
"SRT has been bringing us excellent productions that gives us joy, laughter and wow moments...
I am very happy to be able to give a small contribution to show our long standing appreciation; long after the immense applause we give after each production n performance."
- Veronica Yeo, Friend of SRT
"To me, a life without the magic of theatre would be one bereft of heart and soul. Therefore, I am grateful to SRT and to the other companies in Singapore who spend months, sometimes even years, in bringing to the stage productions of quality made with such passion, care and love.
Your small act would be of tremendous support to the team. It brings me great satisfaction to know that I am part of a community which is enriched by the opportunity to give a little back to those who give so much to all of us."
- Kamini Ramchandani, Friend of SRT
Friends of SRT Donor Programme
If you have always loved theatre and wished there was something you could do to show your support, why not be our Friend?
With your help, we can continue to nurture local talent both on and off stage and support the production of quality theatre.
Benefits
Be the first to hear about upcoming shows
Receive tax benefits for your donation
Tickets to our shows
Invitations to masterclasses and talks with our directors and actors
There are 3 ways to become a Friend of SRT:
1. GIVING.SG
Click here to become our Friend online.
2. PAYNOW
Donate to UEN No.: 199301614N
Please provide name and payment description: "Friends of SRT" and notify us via email.
3. FRIENDS OF SRT APPLICATION FORM
Click here to download the Friends of SRT Application Form.
For more information, please contact us at friends@srt.com.sg.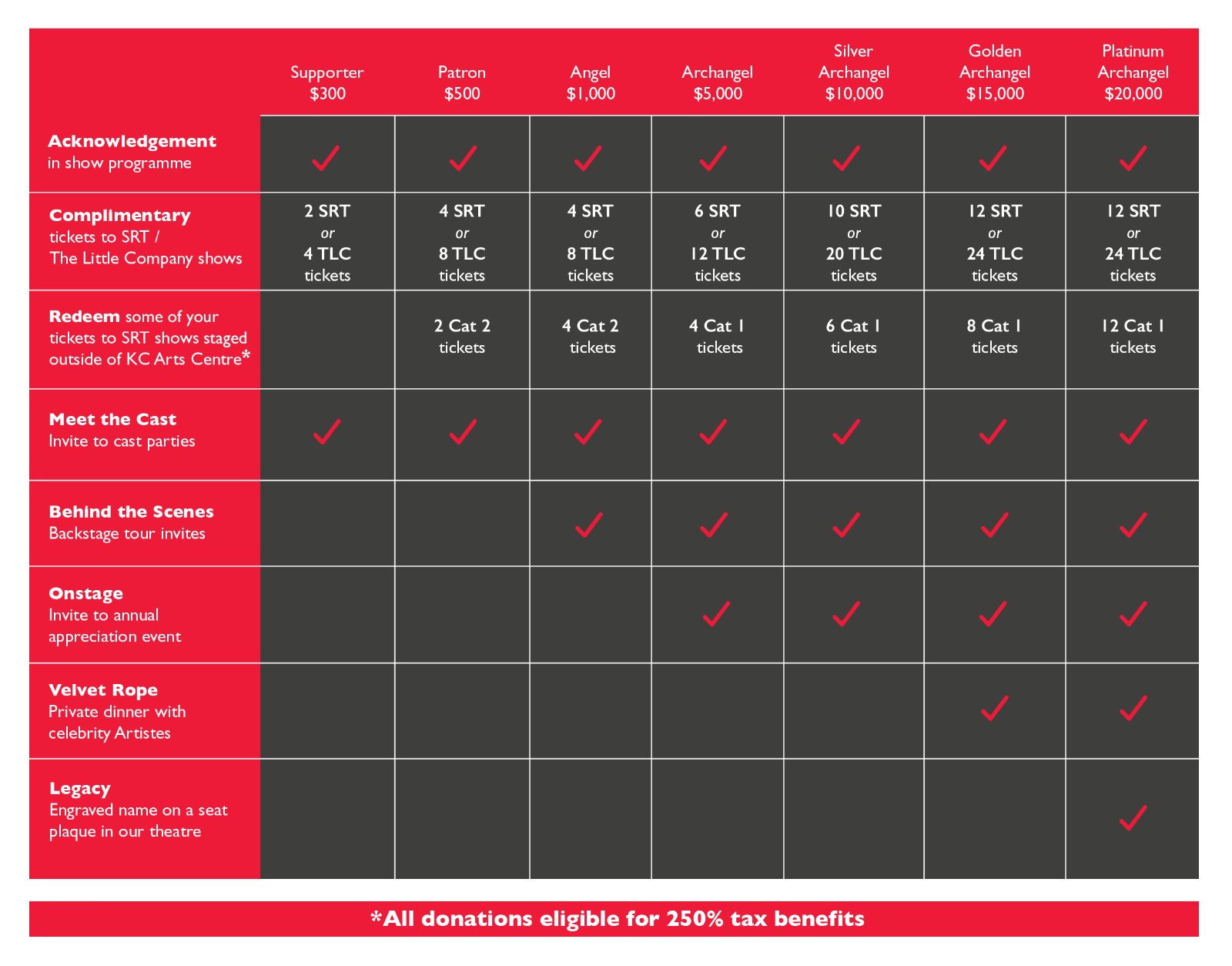 Donor Programme Terms
Complimentary tickets are only available for productions staged by SRT. They are not applicable for non-SRT shows held at the KC Arts Centre.

Friends of SRT donor programme expires 12 months from the date of registration.

* Tickets for SRT shows staged outside of KC Arts Centre, will be redeemed from the main allotment of complimentary tickets in your donor programme.
WHY BE OUR FRIEND?
INSPIRING FUTURE GENERATIONS

We strongly believe that theatre is a strong educational platform that inspires the imagination and unlocks creativity in ways that a classroom may not be able to.

Your support is crucial to funding quality children's theatre and theatre-based education programmes that impact close to 70,000 children, teachers and parents annually.

CHAMPIONING ASPIRING TALENT

Every year, we work with young actors, directors, stage designers and musical composers through SRT's The Young Company and Residency programmes. With your contribution, we will be able to continue nurturing local talent which helps fuel the vibrancy and dynamism of the arts for all to enjoy.

CREATING THE BEST ORIGINAL WORK

Your donation allows us to partner with some of the best international and local talent to produce great theatre. Such partnerships help make Singapore a truly global arts hub.

With your support, we can continue partnerships with the likes of Cultural Medallion award-winner Dick Lee, The Royal Shakespeare Company, Théâtre des Bouffes du Nord and Frantic Assembly.