Gaurav Kripalani wears many hats, and to say he's been a busy man in the last year would be an understatement. From returning to the stage after a long hiatus to pulling off the Singapore International Festival of Arts (SIFA) during one of it's most challenging years, he's had his hands full.
A new twist on the beloved Shakespeare in the Park and an original musical — here's a sneak peek at the fun things he envisions in store for SRT, and more.
It's been 4 years of SIFA — what were some of the highlights?
I had an incredible experience. It was probably the most challenging time to ever do something in the arts, let alone plan an international festival. It was heartbreaking that 2020 got cancelled, but we created version 2.0, which became a six-month-long digital festival. We aimed to keep arts top-of-mind but also to provide work for Singaporean artists and practitioners.
Learning to produce digital content served us well in 2021, when we produced the largest digital arts festival to take place anywhere in the world since the start of the pandemic. We had over 60 productions, both live and online, and we were able to deliver that because of the lessons we learned in 2020. I have to give credit to my team, who worked their socks off and did not flinch despite everything that was thrown at them.
Overall, we increased first-time audience goers by 46% over the course of the four years, and that is one of the biggest things to celebrate.
Welcome back! What's the one thing you missed about SRT, and what do you look forward to, being back?
Honestly...I never really left.
On a serious note, I missed the agility and nimbleness of SRT. There's a lot more autonomy and creative license, and things happen quickly. As soon as the pandemic started, SRT delivered Coronalogues, the first online content we put out. We were very proud of that, and I'm looking forward to being able to spread our wings more.
What's the one thing you learned from leading SIFA that you take back to SRT with you?
I bring back to SRT a large international network that has grown exponentially and exposure to a broader range of genres, which is crucial to this job. I also plan to bring some of the things we did during the festival, such as commissioning artists to use technology to create their work.
Sir Winston Churchill is credited with first saying, "Never let a good crisis go to waste." We can agree that COVID-19 threw the world and our industry into crisis-like times. How do we see SRT not wasting the crisis?
The digital content SRT has put out over the last few months is far more than what we would have done without COVID-19. It's a tiny drop in what could potentially be. We should never lose sight of the fact that we are live media, and the magic of being present with fellow audiences is an integral part of the work we do.
However, the pandemic showed us that people really, really missed the arts. Just think about how much Netflix everyone watched! Now, we need to work towards reimagining how we produce and create exciting content and bring people together safely.
This year's Shakespeare in the Park (I mean, Power Station) is remarkably different from the previous years. Apart from COVID-19, what was behind the decision to present it in its current form?
SRT is known for its large musicals and Shakespeare in the Park productions. But you need 2000 people a night to make that work. Since people have been asking me to do a comedy, we're doing The Complete Works of Shakespeare (Abridged). It's going to be silly and irreverent. Our director (Daniel Jenkins) wanted to do it at a unique venue, and suggested Pasir Panjang Power Station. It's going to be urban, contemporary and fun.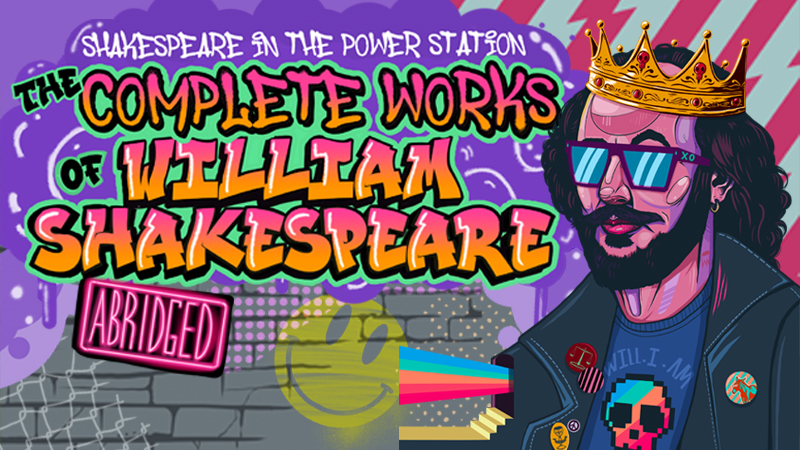 Looking ahead, what's in the works for SRT creatively, in terms of types of shows to be staged?
We're working on an original musical, two new Singaporean plays, and have major international collaborations brewing in the works. We have our hands full over the next few months - all we need is travel to commence, and capacity to be at a hundred percent.
Bonus question: what was it like, filming The Pitch and then The Commission?
I've been saying this a lot, but the silver lining of COVID-19 is this friendship that's been fostered between the three companies. There is a constant ongoing dialogue that's happening between the three companies. We're tackling problems together, commiserating with each other, and propping each other up.
In 2021, there were a lot of collaborations, so I asked if there was a possibility of a live interaction between the three of us. It's an insane idea, especially because I was planning an international festival in the middle of a pandemic. And then I decided to act in a play, for the first time in five years, on the opening weekend of SIFA. What a crazy thing to propose.
However, being in rehearsal for 3-4 hours a day actually turned out to be a sanctuary from the million things I was dealing with. Now, I'm super excited about being back to my team at SRT, and we have big plans.
The Complete Works of William Shakespeare (Abridged) opens 30 October - tickets available here.