The Complete Works of William Shakespeare (Abridged)
30 Oct - 5 Dec 2021 | KC Arts Centre – Home of SRT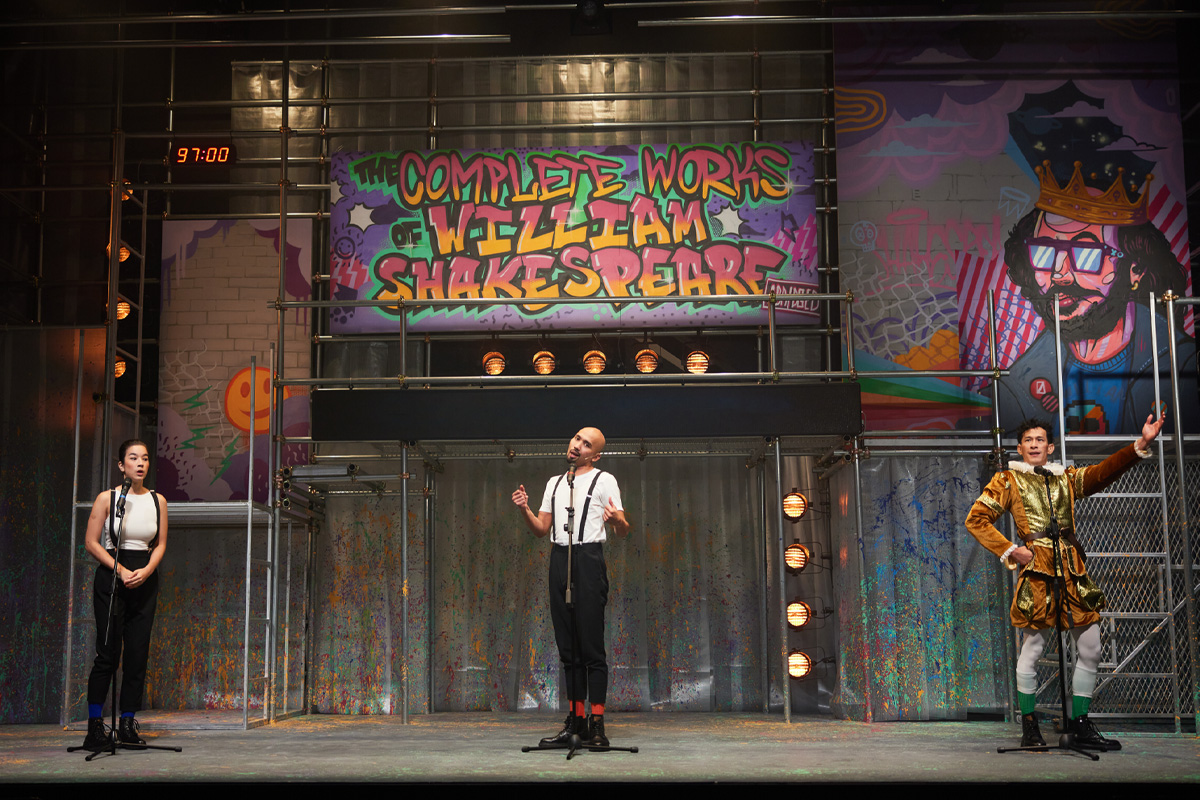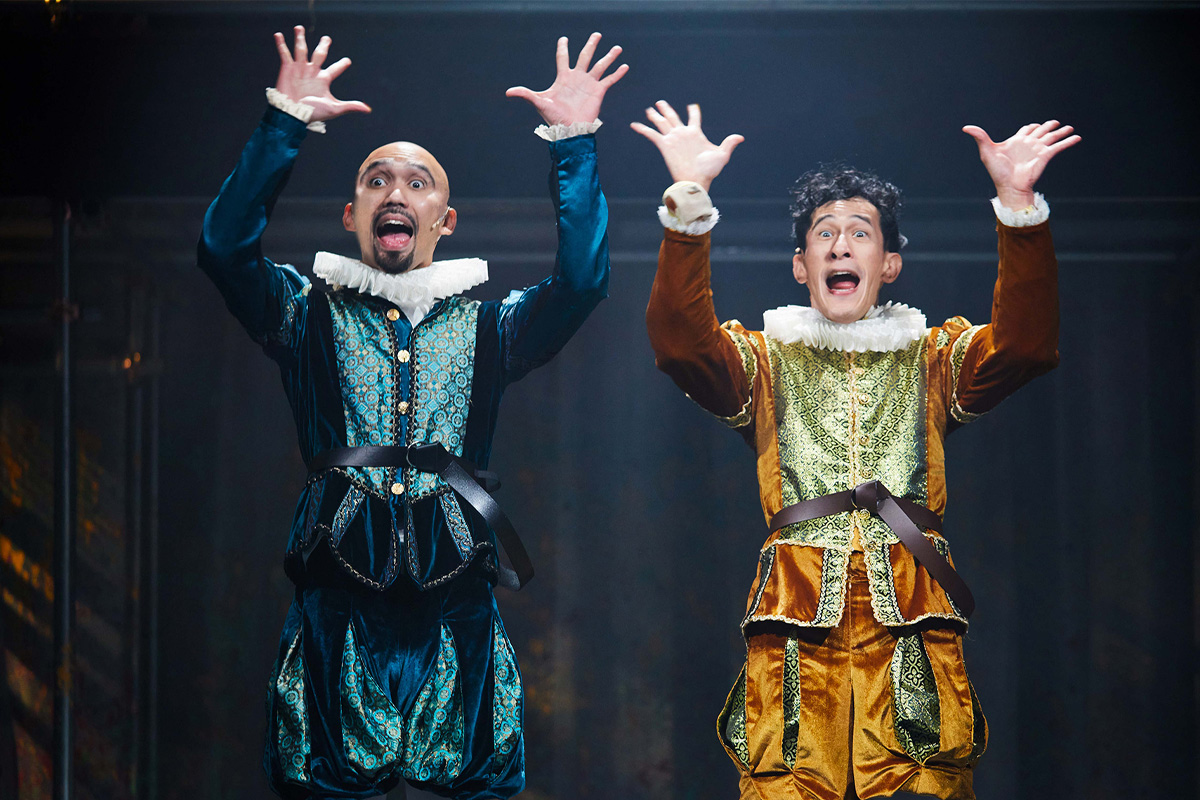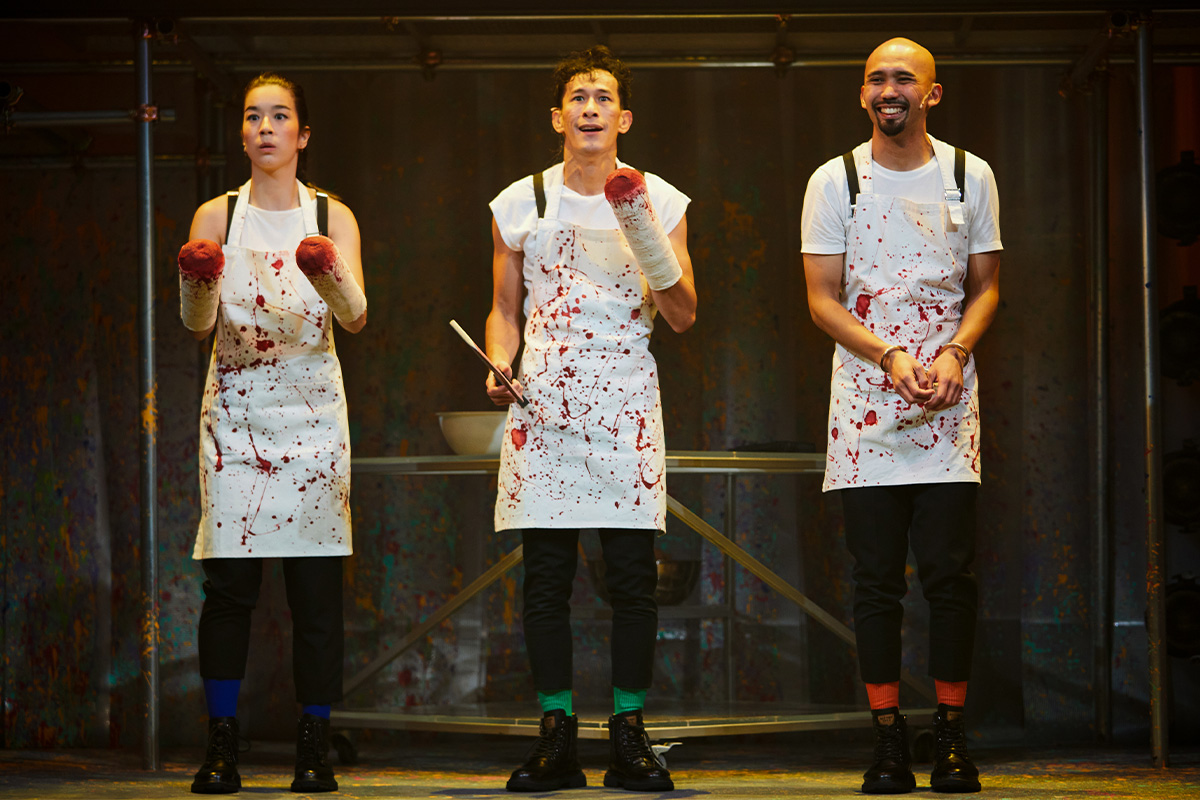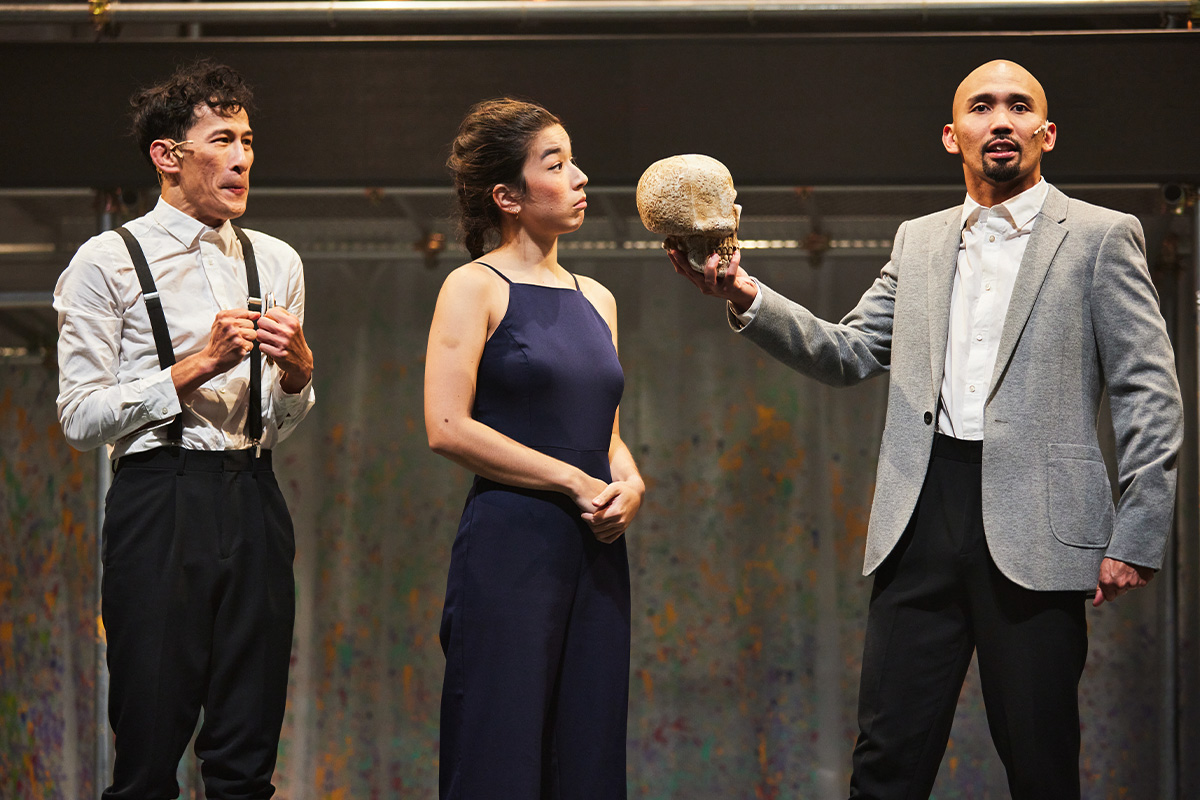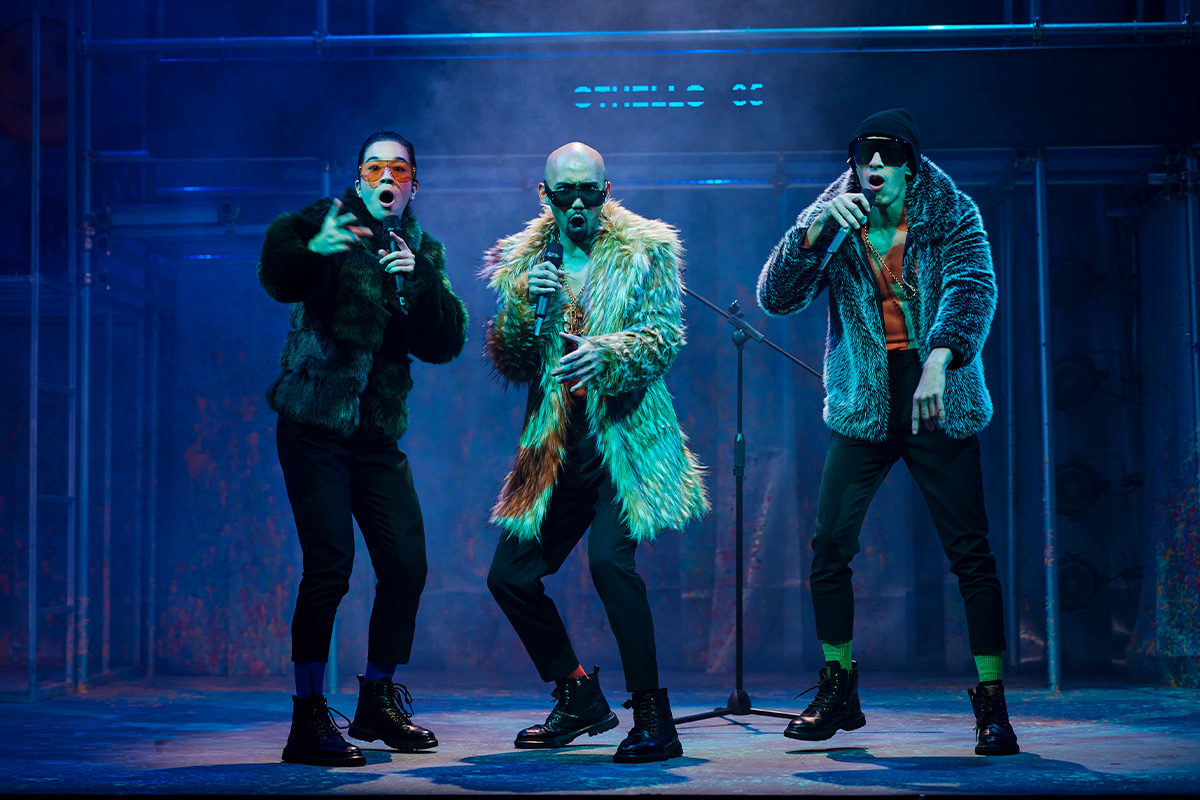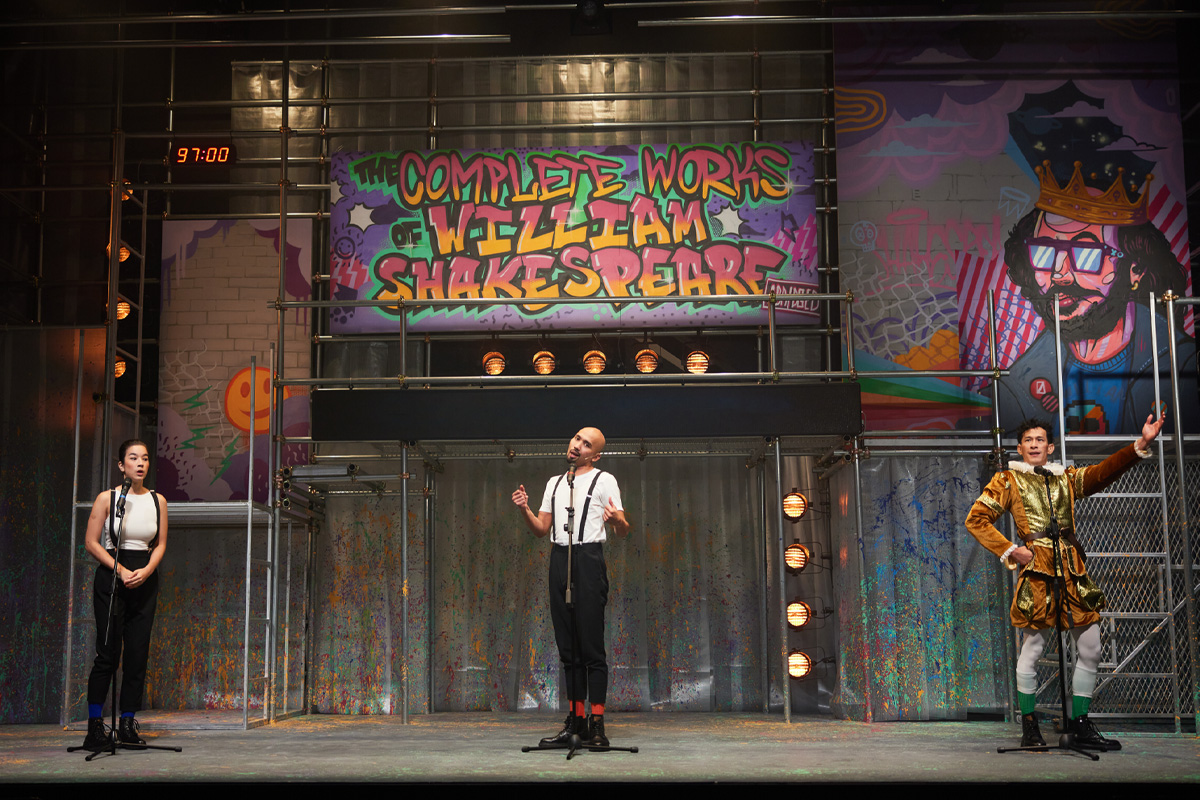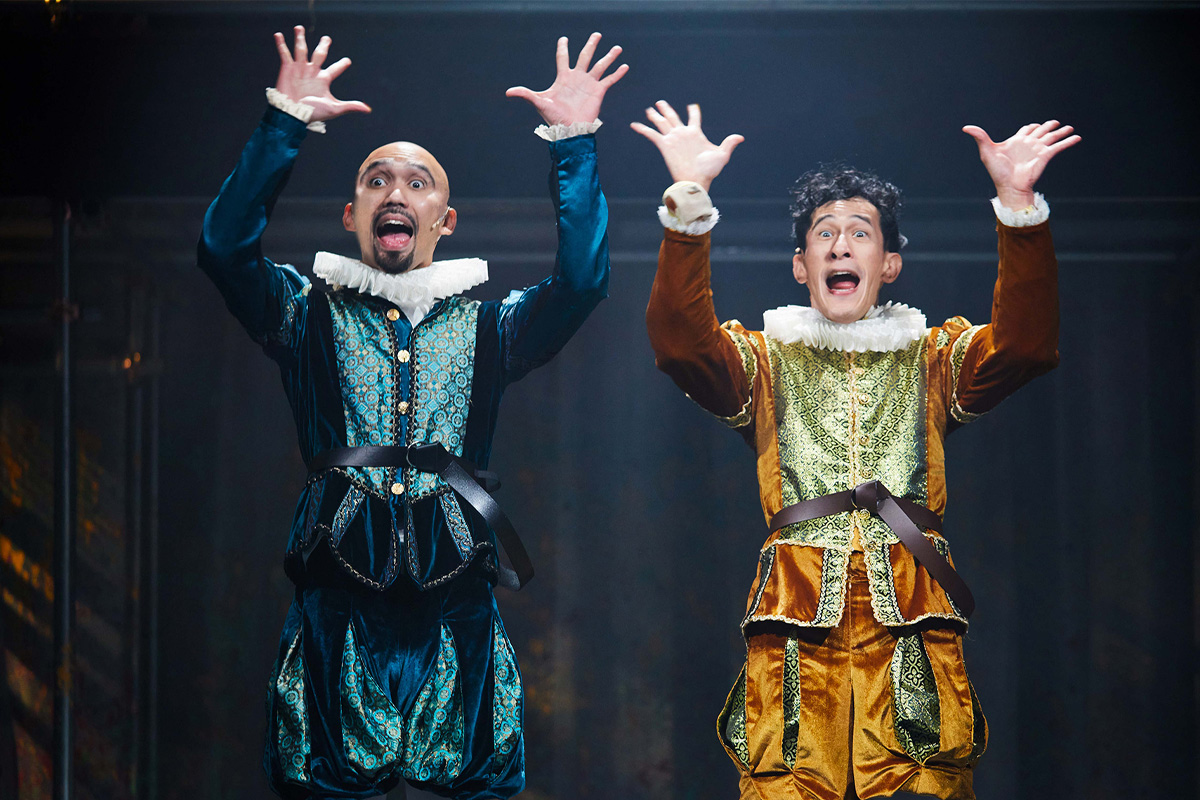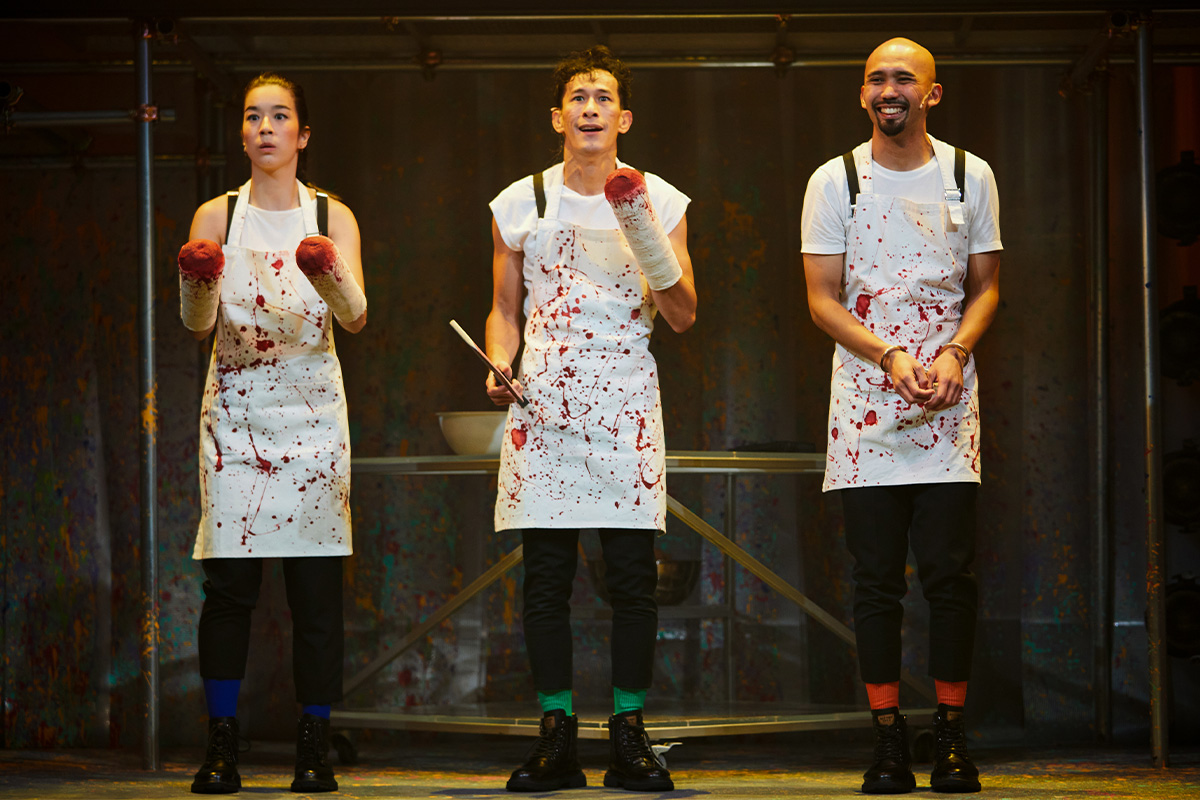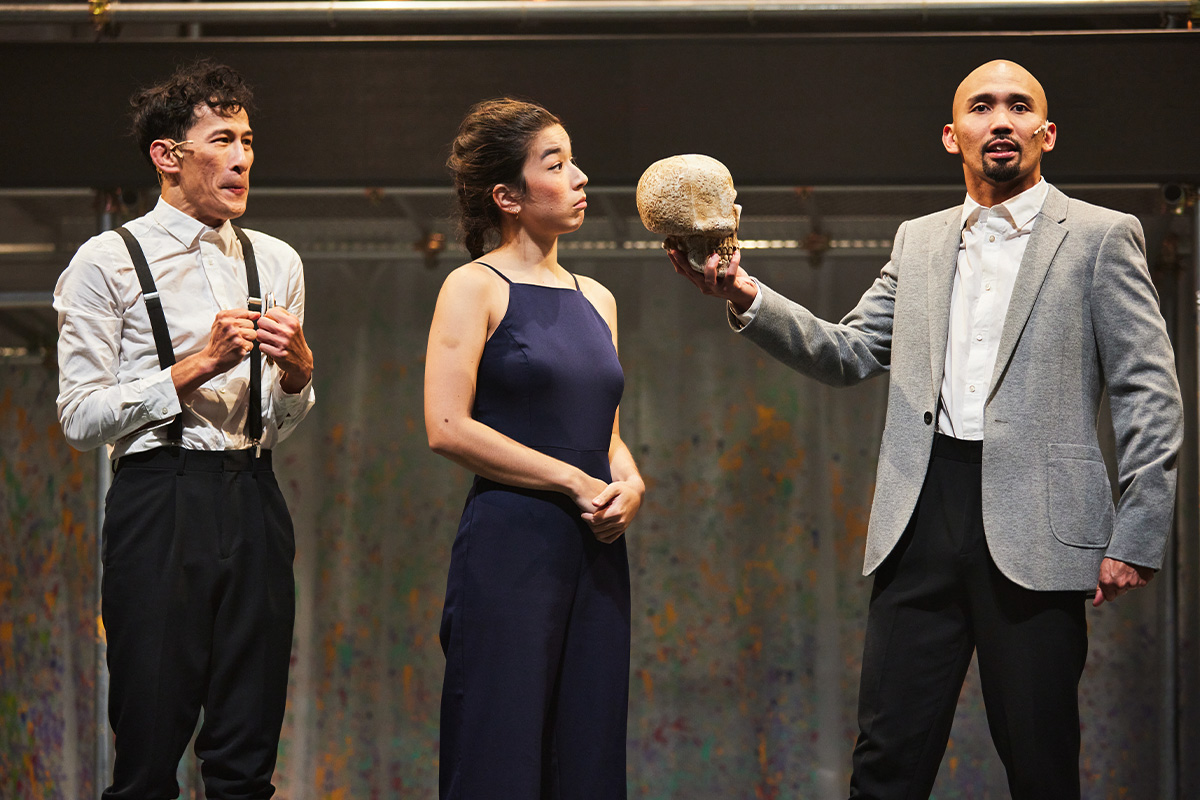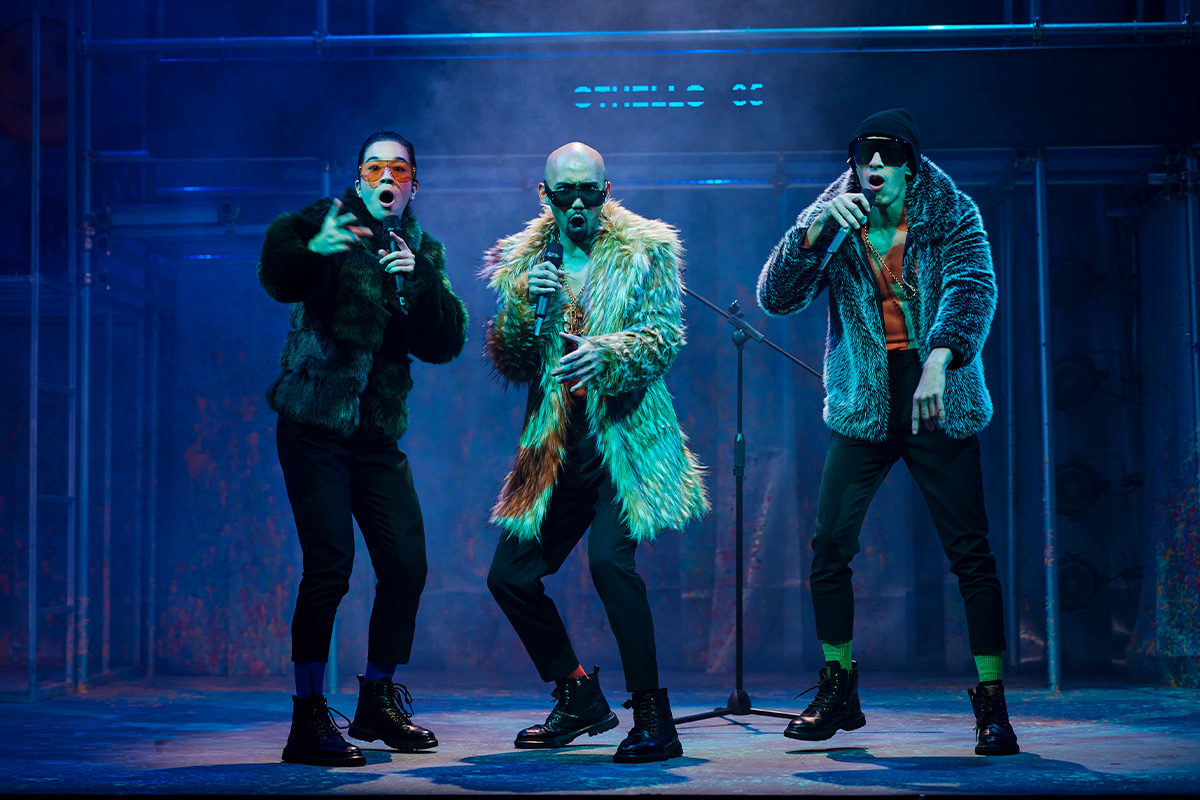 3 Actors. 37 plays. 97 minutes. It's Shakespeare at its funniest!
Experience Shakespeare like never before as SRT presents London's longest-running comedy, The Complete Works of William Shakespeare (Abridged). An irreverent, fast-paced romp through the best bits of the Bard's plays. Join in the fun and merriment as three actors weave their wicked way through all of Shakespeare's 37 comedies, histories, and tragedies in one wild 97-minute ride that will leave you breathless with laughter.
"Rollicking, fast-moving and hilarious!" – The Guardian
"Shakespeare as it was back in the Bard's day: bawdy, irreverent, sublimely entertaining." – Miami Herald
"If you like Shakespeare, you'll like this show. If you hate Shakespeare, you'll love this show!" – The Today Show
"A madcap condensation that features nonstop laughs. Done at a whirlwind pace and with great delight, they are sure to win over even the most sceptical. And there is no doubt that William Shakespeare himself … would approve."
– Daily Variety
---
IMPORTANT MESSAGE: NEW VENUE
THE BARD IS COMING HOME TO KC ARTS CENTRE AT ROBERTSON QUAY!
SRT has prided itself on being a trail-blazer in the industry. When the pandemic started 20 months ago, SRT was the first company to produce original digital content during the first Circuit Breaker with Coronalogues. After theatres had been closed for eight months, we were the first to re-open with Tuesdays with Morrie. After the next round of heightened measures, we brought you Lungs. Despite only being allowed to operate with 110 seats in our 380-seat venue, we ploughed ahead because we knew we were supporting our staff and the numerous freelancers who depend on us. We also wanted to keep our community engaged and inspired.
Since outdoor performances are still not allowed and our Shakespeare in the Park at Fort Canning had to be put on hold, we decided we would do Shakespeare in the Power Station!
But when the latest restrictions were announced last Friday, they had a huge impact on our ability to produce a larger-scaled event.
Even though we love the power station, we decided the financially prudent thing to do would be to move the show to our own venue in order to mitigate the risk. (The team at the power station have been great and very understanding. We look forward to staging something there as soon as we are allowed to operate at full capacity!)
We are incredibly grateful to you for your support, and would like to thank you for your understanding.
Stay strong, stay healthy and please help us spread the word by telling all your friends to come and enjoy this hilariously whacky show with us - all 37 plays performed in 97 minutes by 3 terrific actors. We chose this comedy because everybody is need of a good laugh!
Best wishes,
The SRT Team
---
PROMOTIONS
15% Watch with Friends
15% discount with purchase of four tickets.
Applicable for ALL performances.
[Valid from 23 Aug 2021]
ACCESSIBLE PERFORMANCES
Audio Described Performance: 13 November 2021, 6pm
An Audio Described performance is for patrons who are Blind or Vision Impaired, who require the theatre performance to be described live by a trained Audio Describer. The performance is verbally described and transmitted to the audience members through their own mobile phone device with earphones.
Click here for the Audio Described Pre-show notes (Audio Version).
Click here for the Audio Described Pre-show Notes (Text Version).
Click here for a checklist to use the Audio Description service.
Captioned Performance: 20 November 2021, 6pm
Captioned performances are designed to cater to d/Deaf and Hard of Hearing patrons. In a captioned performance, the actors' speech and technical cues, such as sound effects and music, will be described with text displayed on a screen(s) located near the stage. The trained captioner will operate each show live to ensure they adapt to the unique elements of each performance. Seating is specially allocated to provide an optimal view of the performance and the caption screen(s).
Please contact SRT's box office at boxoffice@srt.com.sg or 6733 8166 for more information and to purchase tickets for Accessible Performances.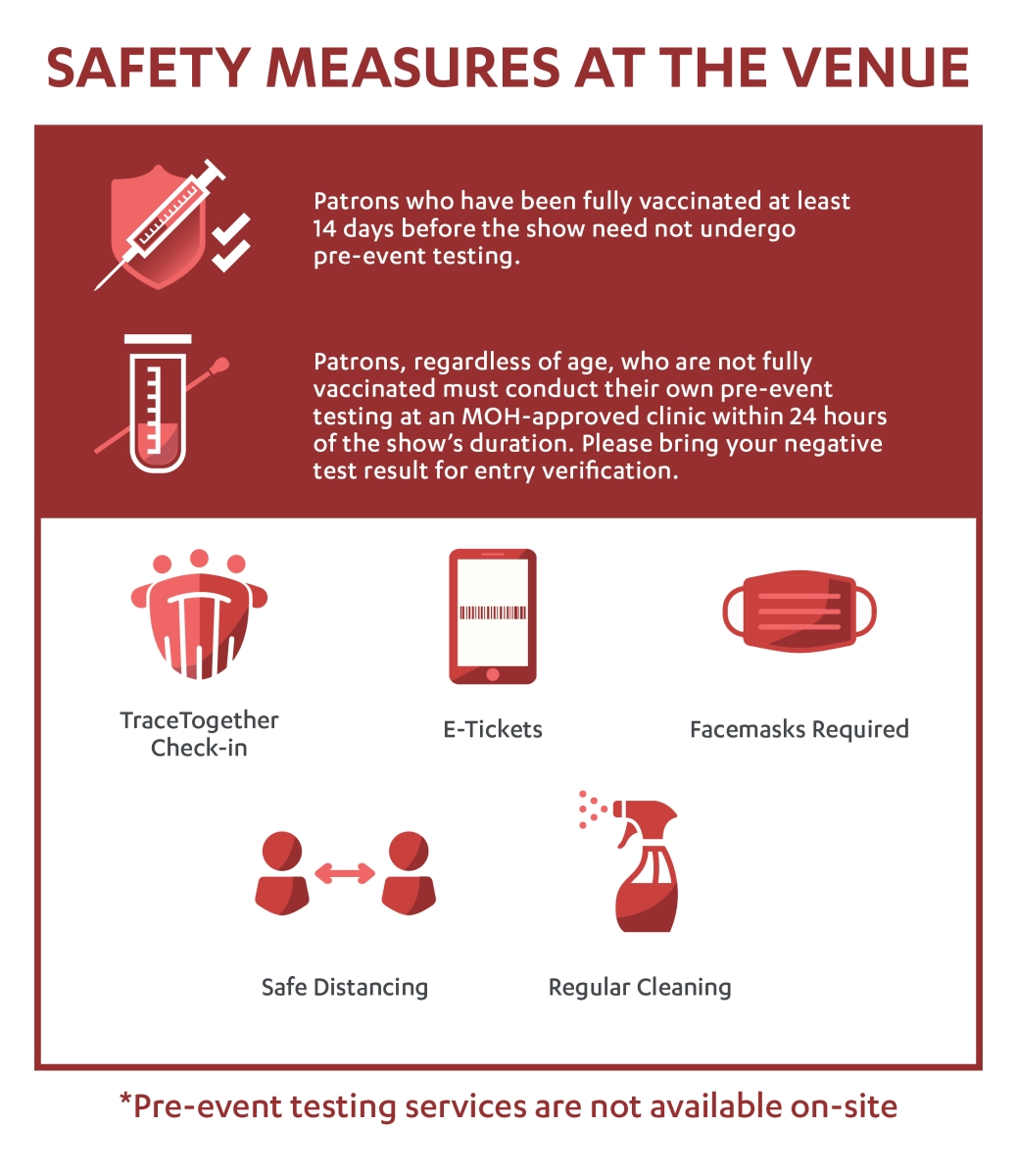 Please be informed that pre-event testing (PET) is required for entry, regardless of age. If you are fully vaccinated (crossed the 14th day after your second dose) you are exempted. As there will be no service provided for PET onsite, kindly conduct your PET at MOH-approved clinics, and bring along a copy of your test results for verification. The results need to be valid till the end of the performance date and time you selected (within 24 hours). The patrons will pay for their testing.
To ensure everyone's safety and well-being, the following measures will be in place at the venue: TraceTogether, SafeEntry, physical distancing, limiting audience numbers and cleaning and disinfection before and after every performance.
All patrons are required to use the TraceTogether app or to bring their TraceTogether token in order to enter the venue.

Event Date

From 30 October 2021
Tuesday to Saturday: 6pm & 9pm
Sunday: 3pm & 6pm
Venue
KC Arts Centre – Home of SRT
Ticket Pricing

Previews (30 Oct, 31 Oct, 2 Nov): $60
Tue - Thu, 6pm & 9pm: $75
Sun, 3pm & 6pm: $75
Fri & Sat, 6pm & 9pm: $85
Duration
Approximately 1hr 30 mins
Rating
Advisory (Some Mature Content)
Recommended for 12 year-olds and above
All patrons, regardless of age, must purchase a ticket for admission. All patrons below 16 years old must be accompanied by a parent or guardian.