The brief for The Silence Bubble intrigued me from the very start. A blown-up transparent bubble housing two figures at separate times, in their separate solitudes and struggles with serious mental health conditions. The audience is privy to a temporary glimpse into an orb of privacy; the arts serve as a vehicle of access. My immediate instinct as the director coming on-board was to steer clear of spectacle and to simply tell authentic stories via poetic physical language… to a crowd of curious onlookers at HBD Hub in Toa Payoh this coming Sunday. Exciting!
Stories, to me, are about openness and accessibility. The stories I am keen to tell looks at the spectrum of human diversity. I firmly believe that we are all emotionally and socially complex individuals with deeply felt experiences that shape our current selves. The missing key of self-reflectivity lies in the elusive "how". How do we find ways and space to reflect? Within a context of addressing anxiety and depression, which many of us are prone to experience at some point of our lives, the ability to reflect can be a lifesaver. As Augusto Boal said, "Theatre is a form of knowledge; it should and can also be a means of transforming society. Theatre can help us build our future, rather than just waiting for it." The knowledge from reflection can come in the form of a conversation, a book, a song, a piece of theatre, I'd like to think.
What is reality? What is imagination? What is our purpose of existence and function as living breathing human beings within our respective communities? These questions appear lofty, even idealistic and indulgent but the fundamental truth is such existential curiosities do strike at the hearts of everyone from time to time. We encounter and entertain these thoughts in a myriad of ways as we keep pace with our lifestyles. "What am I doing with my life? What am I interested in?" are oft-repeated valid questions. We toil to reach our goals and achieve milestones, be it climbing the career ladder, studying to test well, settling down, making major commitments such as marriage and buying a house, going on adventures with our loved ones etc. We also collide with and collect traumas along the journey, be it loss, grief, rejection, failure or defeat in the form of incredible odds, tragedies and challenges.
Our process in the rehearsal room thus began with the bigger picture. On Day 1, performers Chong Woon Yong, Henrik Cheng and I examined our personal journeys with the four stages of living, waiting, dying and death. We questioned our own pace as artists in relation to our informed environments and social networks. Documenting our responses within the context of living with depression and anxiety, we organically came up with some mental health myths that need to be addressed in the piece. A reversal of the lens of stigmatization and looking at how people living with mental health conditions actually show that:
· they possess mental resilience and fortitude
· they are functioning members of society with coping mechanisms
· they are building/mending/reconciling relationships with loved ones
· they live with labels and the effects of post-diagnosis (for instance, being on medication is to put protective mechanisms against self-harm, mania in place)
My rehearsal process with two incredibly open and beautifully creative male performers has no steps, as baffling as that sounds. Rather, I see it as a continuum of responses to different parameters, as my instinct is to always collapse boundaries and work freely. Creative accidents are always welcomed in our process of discussion and devising. Both performers were asked to move with the synergy of their impulses and awareness of their bodily senses, rather than intentions. The aim is a simplified process of theatre-making and when we struggle, as I've claimed that we will from beginning to end, our struggle is part of the work. At the end of the session, it would not matter what comes first, movement or text. What matters is we arrive at an authentic 30-minute inhabitation of the silence-filled bubble, subjugated by vulnerable, traumatized and recovering bodies and stories weaved with mental illness related facts, attitudes and reflections.
As artists, the greatest takeaway from our time spent in consultation with Shan You Counselling Centre is that we learnt that there should not be a "us versus them" narrative within the context of mental illness and genuine human suffering. Suffering is suffering and the initial humane reaction should always be empathy-driven, focusing on how to alleviate said suffering. We can educate and train ourselves to withhold judgment and instead, seek out support and solution. Stigmatization festers when the myths of mental health illness win.
As the director of The Silence Bubble, my understanding is that we are all prone to negative feelings and mental health issues due to the rigours of life. These issues develop into mental health conditions such as anxiety and depression over time when our protective mechanisms, such as our environments, social networks and beleaguered mind-sets, fail. I am truly grateful for this opportunity to create discourse about the elephant in our community. To encounter the work is a chance to take stock of our own personal protective mechanisms. Are your home and work environments safe and supportive or harmful and toxic? Have you cultivated meaningful relationships that will anchor you when things get rough? Can we tell the difference between endurance and resilience? If the answers to these questions are less than satisfactory, we need to emerge from our own bubbles of silence to find support. Support can come from a robust personal social network and if there isn't one, we should seek out the professionals.
Our performance, with its dual dramaturgies, engages with complex states of depression, obsessive-compulsive disorder, suicide ideation, mania, intrusive thoughts and subsequent coping mechanisms. It is not as menacing as it sounds, because, like life, our work reflects a spectrum of humanity in both darkness and light. I hope The Silence Bubble's simple message about the poignancy of life lived in moments of silence and seclusion will resonate with you, our dear audience.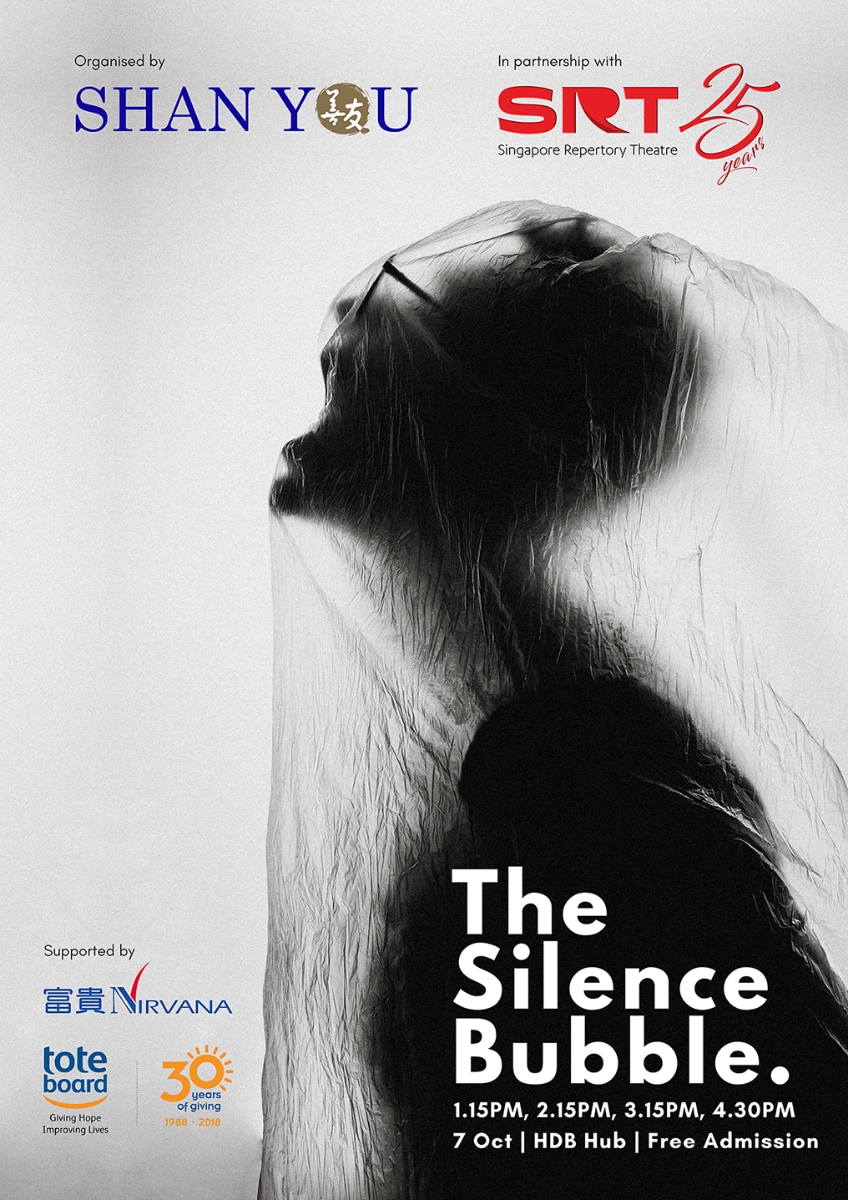 Starring Chong Woon Yong, Henry Cheng
Directed by Grace Lee-Khoo
Venue: HDB Hub Mall Area (480 Lor 6 Toa Payoh, S'pore 310480; Near to Toa Payoh MRT)
Date: 7th October 2018
Time:
Depression: 1.15pm – 1.30pm, 3.15pm – 3.30pm
Anxiety: 2.15pm – 2.30pm, 4.30pm – 4.45pm
About the Director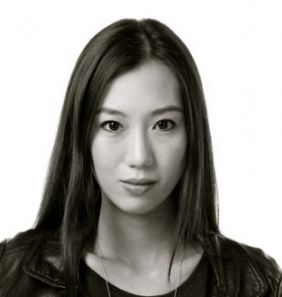 Grace Khoo is a Singaporean theatre-maker and founder of Access Path Productions, a social enterprise that creates artistic experiences with the marginalized. Her most recent project is as producer and performer of And Suddenly I Disappear: The Singapore/UK 'd' Monologues' which toured to the Southbank Centre in September 2018 as part of the Unlimited Festival and other parts of the UK. In 2017, Grace served as International Artist in Residence at Graeae Theatre Company; UK's flagship disability led inclusive theatre company. Visitwww.graceleekhoo.com for more information.