Current & Upcoming Programmes
---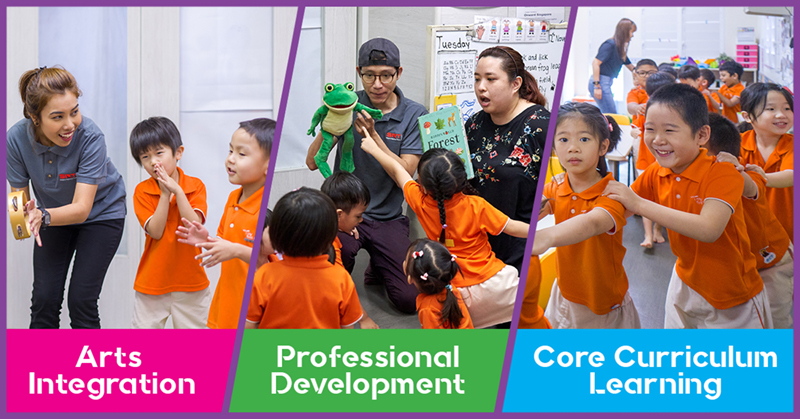 Singapore-Wolf Trap Classroom Residency

In mid-2019, Singapore Repertory Theatre (SRT) became the first overseas affiliate to Wolf Trap Institute of Early Learning Through the Arts, launching the Singapore Wolftrap Classroom Residency programme. A total of 10 Singapore-based artists were trained in Wolf Trap's unique teaching methodology. This enabled local schools to receive high-quality arts integrated curriculum whilst providing professional development for preschool educators. This year, we are proud to announce that the Singapore Wolf Trap programme is eligible under the NAC-AEP for Pre-Schools, allowing local anchor operators to receive Tote Board funding. This grant will provide more pre-school students the opportunity to learn through the arts, a fundamental feature in early childhood education.
SRT recognises that as we progress into the 21st century, critical thinking, communication, and creative skills have become increasingly important in order to thrive. While rote learning worked for the 20th century, the world we live in today and in the future calls for self-directed learners who enjoy the process of learning. The Singapore education system recognises this and is taking steps in that direction. The Wolf Trap programme is poised to equip teachers with strategies to develop these skills in children from a young age through arts integration. 
Managed by Singapore Repertory Theatre's Learning & Engagement Team, the Singapore-Wolf Trap Classroom Residency is a powerful, professional development programme dedicated to two goals: 
Preparing young children for a lifetime of learning by giving them arts experiences that connect to subjects across the curriculum.
Providing effective, high-quality professional development for early childhood educators to engage children in active learning in and through the arts. 
The Approach
Customised – The Singapore-Wolf Trap programme aligns with teachers' existing priorities and curriculum requirements, and is designed to achieve desired outcomes for children and professional milestones for teachers.
Hands-On & In-Depth – Singapore-Wolf Trap Teaching Artists work with teachers and children in their classrooms, allowing teachers to make an immediate impact on their current students, and apply those skills to future lessons.
Learning Outcomes
Independent research demonstrates Wolf Trap Institute's approach leads to professional development in teachers and student readiness.
Teachers feel more creative and confident in their ability to facilitate arts-integrated learning experiences.
Children score higher on assessments of literacy, math, music and movement, and social relations.
To learn more about the research findings, please click here to read the full paper.
Why this programme?
Proven education model by U.S. based Wolf Trap Institute of Early Learning Through the Arts backed by intensive research and 35 years of experience
Learn arts-integrated teaching skills that prepare your students for MOE's 21st Century Competencies framework
Acquire highly effective classroom management strategies transferrable to any context, whether in the classroom, at home, or beyond
Improve teaching practice to gain higher standardised test scores from your students
Who should Participate?

Programme Structure

Cost

Preschools: N1 – K2 (3 – 6 years old)

16 sessions over 8 weeks,
45 minutes per session

Programme structure may
be tailored by request.

16 sessions at $3000, exclusive of GST.

This programme is eligible under
the NAC-AEP for Pre-Schools.
For more information, please contact SRT's Learning & Engagement Manager, Paul Adams, at paul@srt.com.sg or 6221 5585.
"The energy that the arts brought to my students and I was the main highlight of this training. I will definitely use the strategies I have learned for transitions, settling down and introductions in my future lessons. This is a big help for teachers that helps to maximise lesson time and the students' learning." – Maria, Little Skool House
"We've learned a lot in the residency and I am glad that I am able to use these strategies that I've learned in my core lessons! Moving forward, lessons will be much more interesting and engaging for the children!" – Aliana, K1 Teacher, My First Skool
"During my residency, I have learnt quite a lot… How to use my voice and body movement… not to be shy, be myself and use the space given… strategies on how to hold the class when it was 'rowdy' and going to 'Story Land' there I am [in role] as a character…." – Jamakyah, Nursery Teacher, My First Skool