What first confronts you is the set, virtually a character in its own right. There is garbage heaped around the edges, junked cars floating in the air, and the abandoned ruin of Fogg's Asylum looming over all. Ominous sounds creak and groan from it, as though it is alive, in pain, and angry. Shadowy people begin prowling the stage, using flashlights to search for who knows what? Once the company has come out into the light, they begin singing "The Ballad of Sweeney Todd," the dark tale of the Demon Barber of Fleet Street. The story is set in Dicken's London, but the set and lack of concrete calendric references, makes it timeless. When is it happening? One hundred and eighty years ago, or in a post-apocalyptic London, a corrupt system leaving its poor inhabitants scrounging in the rubble?
The set up for its story is very similar to that of the Count of Monte Cristo. In both a man is wrongly imprisoned by a pair of jealous men, over the love of a beautiful woman: Edmond Dantes sent to Chateau d'If for fourteen years, Benjamin Barker to Australia for fifteen. Dantes escapes to return as the Count, Barker to return as Sweeney Todd, both to seek a terrible vengeance.
Jett Pangan is a powerful Sweeney, hulking, brooding, haunted, haunting. He heads a great cast, some of the best talents from the Philippines, where this touring company originates.
Behind every great man there is a woman, and behind Sweeney is Mrs. Lovett. Lea Salonga, who plays her, is perhaps the lowest profile superstar in the world. Even in Singapore, which is practically her second home - I have seen her in a number of productions, both musical, and straight drama - heads would only turn because she is a beautiful woman, and not because she is a legend. (Of course, this isn't the most theatrically conscious community. My Grab driver on the way over not only didn't know her, he didn't know MBS had a theatre!) That's because the roles which brought her global fame were animated features: she was Princess Jasmine in Aladdin, and Mulan in Mulan. Otherwise, how many people actually saw her in her breakout role as Kim in Ms. Saigon? As titanic a theatre performer as she is, the number of folks who see major shows is a drop in the bucket.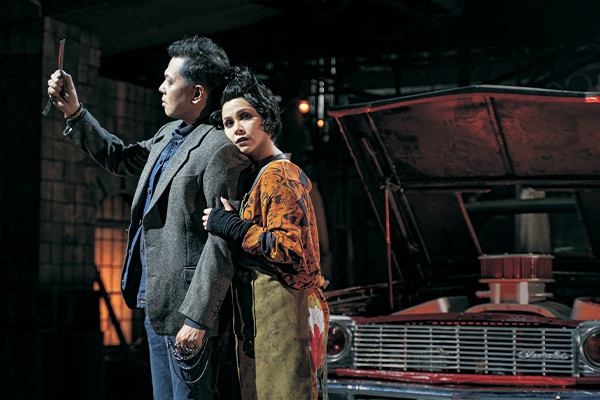 But superstar she undeniably is, the stage is where she shines the brightest, and in Mrs. Lovett she has the kind of role she lives for. Sweeney, though Pangan makes him a three-dimensional person, not a caricature, is still a man limited by his all-consuming passion. Mrs. Lovett provides the meat for the show (more ways than one ;-)). She is crafty, cranky, coy, and coquettish. She is motherly to young Tobias, scheming, when pushing Sweeney to his bloody destiny, and by turns flirtatious and dreamy when urging him to marry her and retire as she sings "By the Sea."
Singapore Repertory Theatre continues to provide some of the finest shows to be found anywhere in the world. With Sweeney Todd they have brought us one of their very best.
This review was contributed by a Friend of SRT, Jake Jacobs. Sweeney Todd: The Demon Barber of Fleet Street ran 28 Nov – 8 Dec 2019 at Sands Theatre, Marina Bay Sands.