When I was a young child, my weekends were filled with a myriad of enrichment activities ranging from ballet, art, piano, and swim class. You could pretty much say that my parents got all bases covered. However, as I got older the number of enrichment classes began to dwindle. This was partly because I had to sit for a national examination but mostly due to the fact that my interest in those enrichment classes had begun to fade. At age twelve, floorball had been dubbed my new favourite hobby. It was a sport I wished to perfect and hence had little time for my past pursuits. This also rings true for most children of that age bracket (10 to 12 years old) where they now have the ability to think autonomously and thus wish to decide INDEPENDENTLY which activity they wish to focus their time on.
I say the word independently in caps as it's a word that parents celebrate during a child's early years but sends alarm bells ringing upon hitting pre-teen. A fear that many tween parents share for they are afraid that once their pre-teen is able to exercise choice they may make the wrong one. An undoubted fear, but what if we were able to flip the switch and in doing so avoid it?
I was one of the lucky ones whose parents did. For after losing interest in floorball, I found a newfound love in theatre. My mother recognising this, promptly signed me up for drama classes. This very act allowed adolescent me with my swinging hormones and developing mind to see that my parents were willing to listen to MY VOICE. As a tween, this greatly helped to develop my sense of self and confidence as an individual.
"The adolescent must never be treated as a child, for that is a stage of life that he has surpassed. It is better to treat an adolescent as if he had greater value than he actually shows than as if he had less and let him feel that his merits and self-respect are disregarded." – Maria Montessori
On top of that, my family would attend the various productions I was in, emphasising their regard for me. My weekly drama classes also became a point of interaction where amidst my temperamental mood swings I would passionately share about what I have learnt with my parents.
As I look back, I definitely recognise that my autonomy as a tween was a gift from my parents that enabled me to succeed and be in the position that I am today. For that, I am truly grateful and strongly advocate that adolescents should continue to play and have a say in how they choose to play.
This article is contributed by SRT's Learning & Engagement Officer Kimberly Arriola.
Kimberly will be conducting the upcoming Stage Camp (Acting Stage) this June. Click here for more information.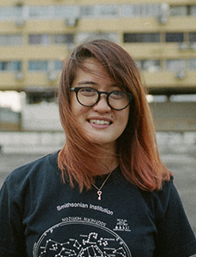 Kimberly is the Learning & Engagement Officer at SRT. She is a graduate of the Royal Central School of Speech and Drama with a Degree in Drama, Applied Theatre and Education and an alumna of Singapore Polytechnic's Diploma in Drama, Applied Theatre and Education. As an artist, Kimberly greatly believes in bringing the arts into the local community, as evident through her past endeavours working with like-minded social and educational institutions such as SPD, Babes, the National Library Board and the National Institute of Education.
At present, Kimberly is working towards her aspiration of becoming a writer, having been a part of Checkpoint Theatre's Playwriting Masterclass and SRT's Young Company Writing Programme. Since then she has staged her first play, Curry Puff, which was part of The Twenty Something Theatre Festival.