Kaplan is SRT's Learning & Engagement new learning partner. As part of the relationship, students get to participate in the Kaplan Industry Project with SRT. This is a contributing article from the participating students of their experience working on the project.
Earlier this year from 18 February to 19 March 2021, 11 participants of the Kaplan Industry Project, "Event Management & Audience Development", had the opportunity to work an online event with themes related to The Sound Inside, a play by Adam Rapp produced by Singapore Repertory Theatre (SRT). This was an inaugural collaboration between Kaplan and SRT for its students to take part in an actual event that they had to organize aimed at drawing in new audiences and patrons for the theatre, through panelists' discussions on the theme of the play.
The student teams were assessed based on their creativity and practicality of executing the online event. Both teams fared well in their proposal delivery and had the opportunity to run the show on event day. On 19th March, a panel of experts and contributors were invited for an insightful discussion. The teams had also incorporated a psychology test for audience engagement and marked the end of the event with a promotion of the play.
Here's what the students had to say about their experiences:
"I have always loved working in teams, especially when meeting new people to collaborate in achieving a goal together. We had the chance to visit SRT and their team, which was eventful and well organised with everyone kept apart for safe distancing. They took the time to share with us the 'behind the scenes' on how they operate as an organisation.
We started off by brainstorming on our proposal and I was impressed that my teammates and I were able to communicate well and delegate tasks quickly. The project topic was hugely on "Loneliness"; hence we had to ensure that the ideas we came up with would be thoughtful and well grounded.
After a couple of weeks of working in our own teams, both teams presented our proposals to SRT and we worked amazingly well to execute the event. It was a remarkable success with the combined effort of the teams. Through this project, I have not only gained confidence but also built efficiency within my team by being more mindful when communicating with my fellow teammates. This opportunity will surely help us individually in building relationships and when adapting to a new environment in the future. I have also become more prepared to step into the workforce. I am very delighted and honoured to have collaborated with SRT for this fruitful Kaplan Industry Project."
- Chrisma Roy Evelina, Bachelor of Business Studies in Logistics and Supply Chain Management, University College Dublin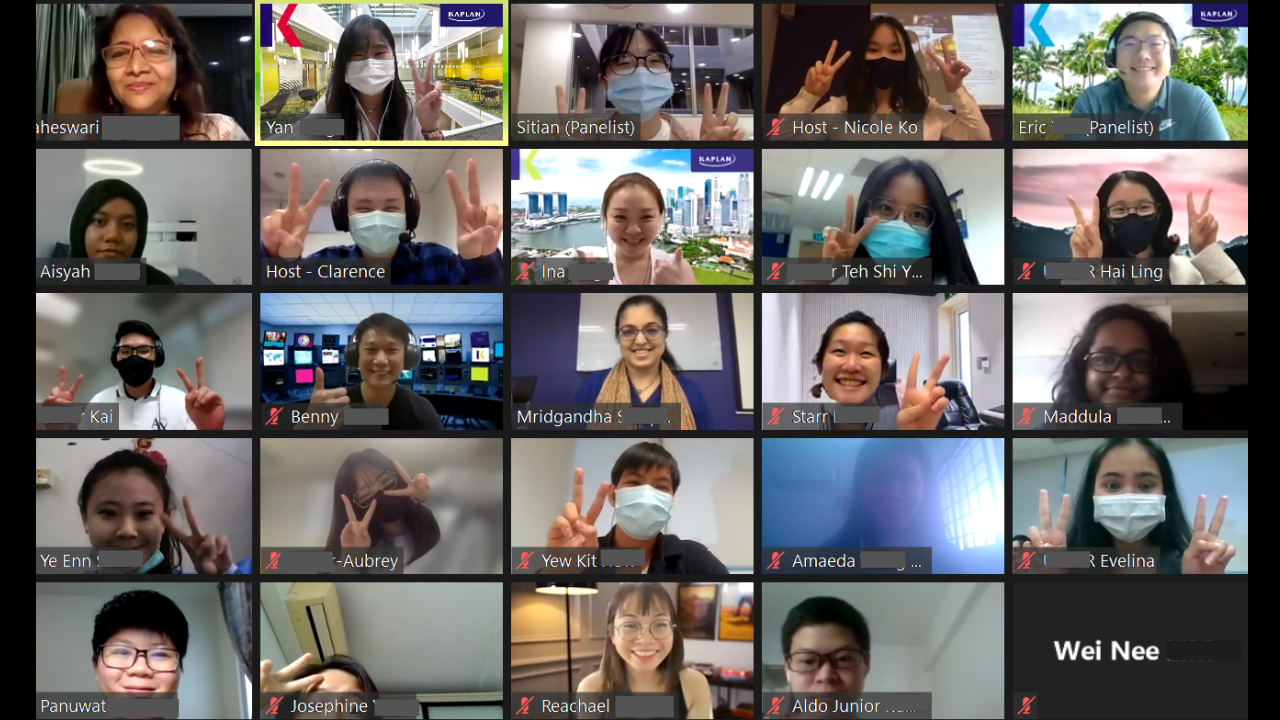 "Organising an event for SRT was my favorite industry project for multiple reasons. I had the opportunity to meet and work with a new group of amazing people through this project and it created a very interesting dynamic of fresh, new perspectives and personalities. We gelled quite instantly with the aim of proposing the best event for SRT, and had a team dynamic that was based on hard work and mutual respect.
We were also given the opportunity to visit SRT in person in a safe distancing environment. It was an incredible experience of learning how a theatre operates. The project was not all smooth sailing initially, due to different visions internally as well as the challenge of inviting a group of panelists. Nonetheless, these were crucial for our learning experience. It all turned out well through effective communication, norming, and discussion.
The event itself was such a refreshing and valuable experience. I got to experience hosting an event for the first time and I would cherish it as it pushed me beyond my comfort zone. Overall, the event went well due to everyone's great teamwork. There is no adequate way to describe the exhilaration we experienced after the final goodbyes were said. It was simply an amazing experience. Thank you, SRT and our great supervisors at Kaplan…I will never forget this experience."
- Clarence Skylar Mutjunang, Bachelor of Business Studies in Digital Business, University College Dublin
Working together with strangers to manage an event was no easy feat, especially during the pandemic as communication was mainly based online. Thankfully, with safe distancing measures in place, we could visit the SRT theatre and learn more about how a non-profit organisation operates and what its brand identity represents. We gained insights into various aspects of what goes on behind a single show – from marketing to pitching to sponsors, to audience's experience and safety measures, and many more, which could effectively aid us in the curation of our event.
Our team settled on a discussion event as well as proposed multiple marketing channels and mockup collaterals, such as usage of TikTok to target the younger demographics. The pitch to the SRT team gave us the experience of how a real-life pitch would be, from which we learnt about the areas for improvement as well as what we did well in our proposal.
Eventually, we combined both team's proposals to create an "Ultimate" one! It was tough to communicate effectively due to a larger team size, but everyone was easy-going and played their role individually. Overall, it was a great learning opportunity as I managed to hone my soft skills, gained relevant real-life experience in an event organisation as well as learn about stakeholder management."
- How Yew Kit, Bachelor of Business in Human Resource Management and Marketing, Murdoch University