C-O-N-T-A-C-T
From 29 April 2022 | The Arts House, 1 Old Parliament Lane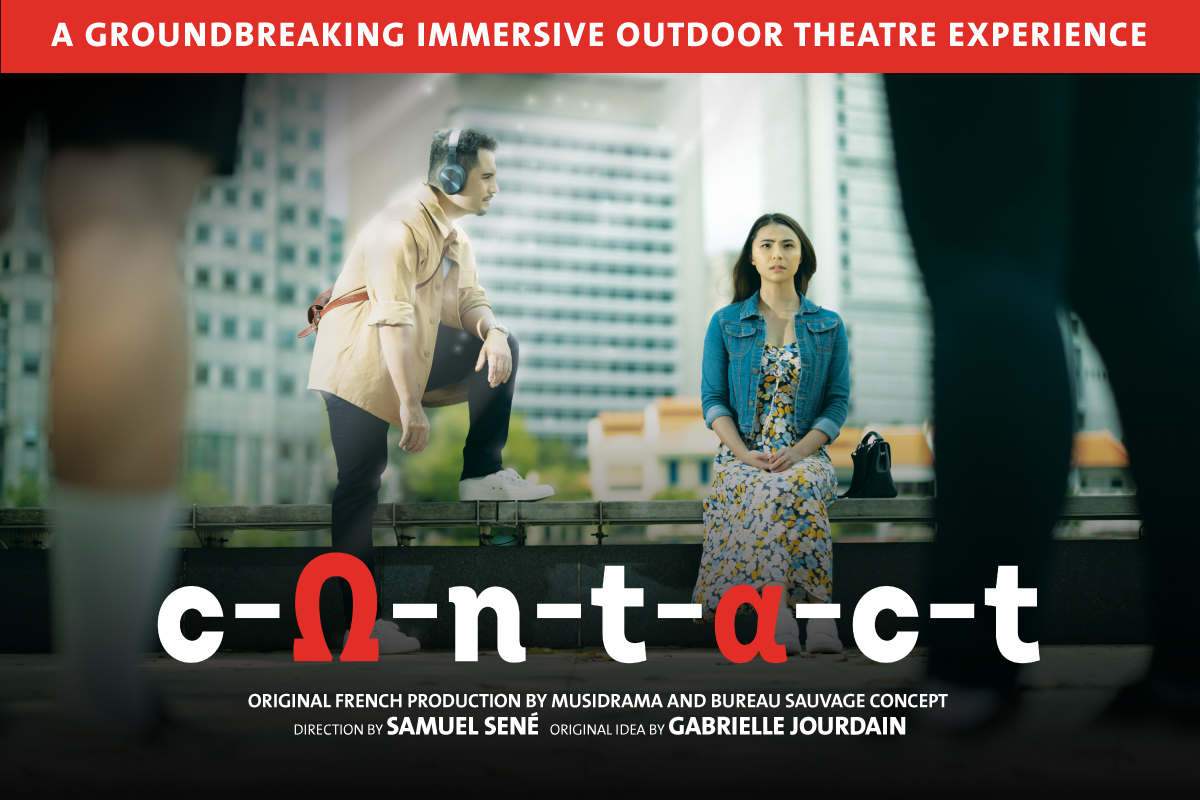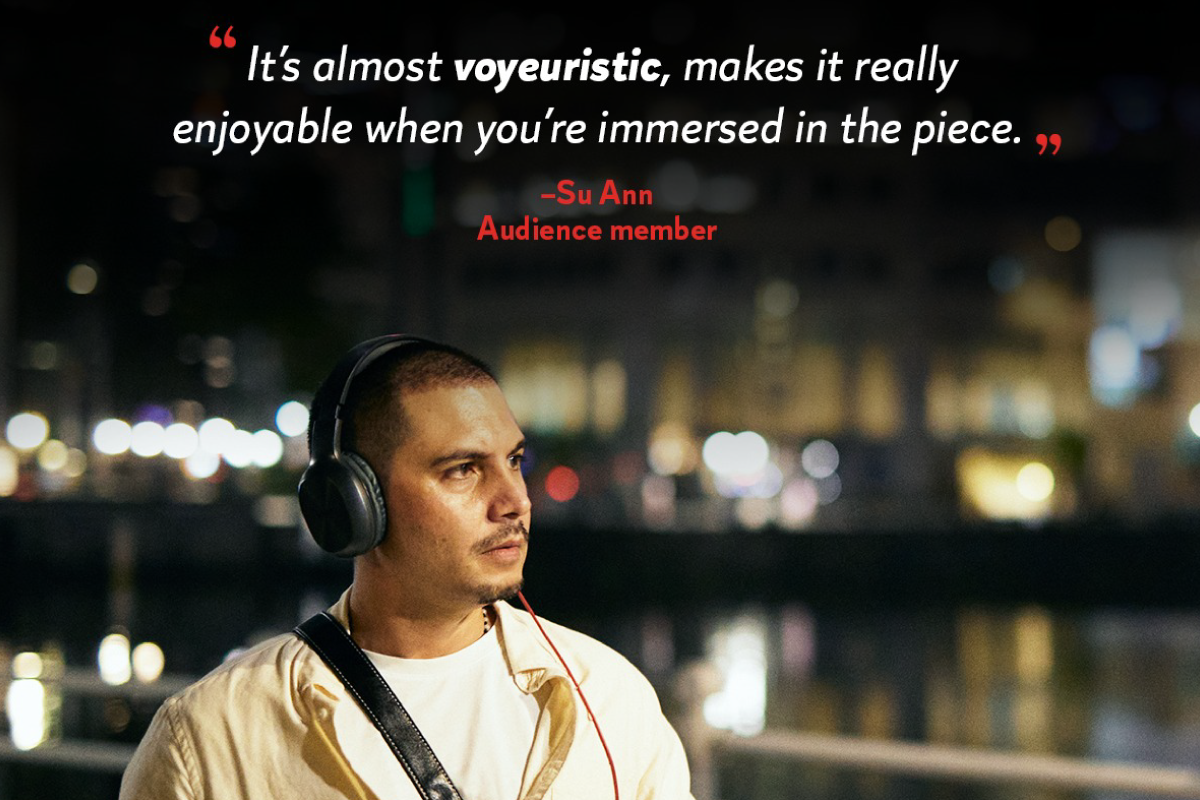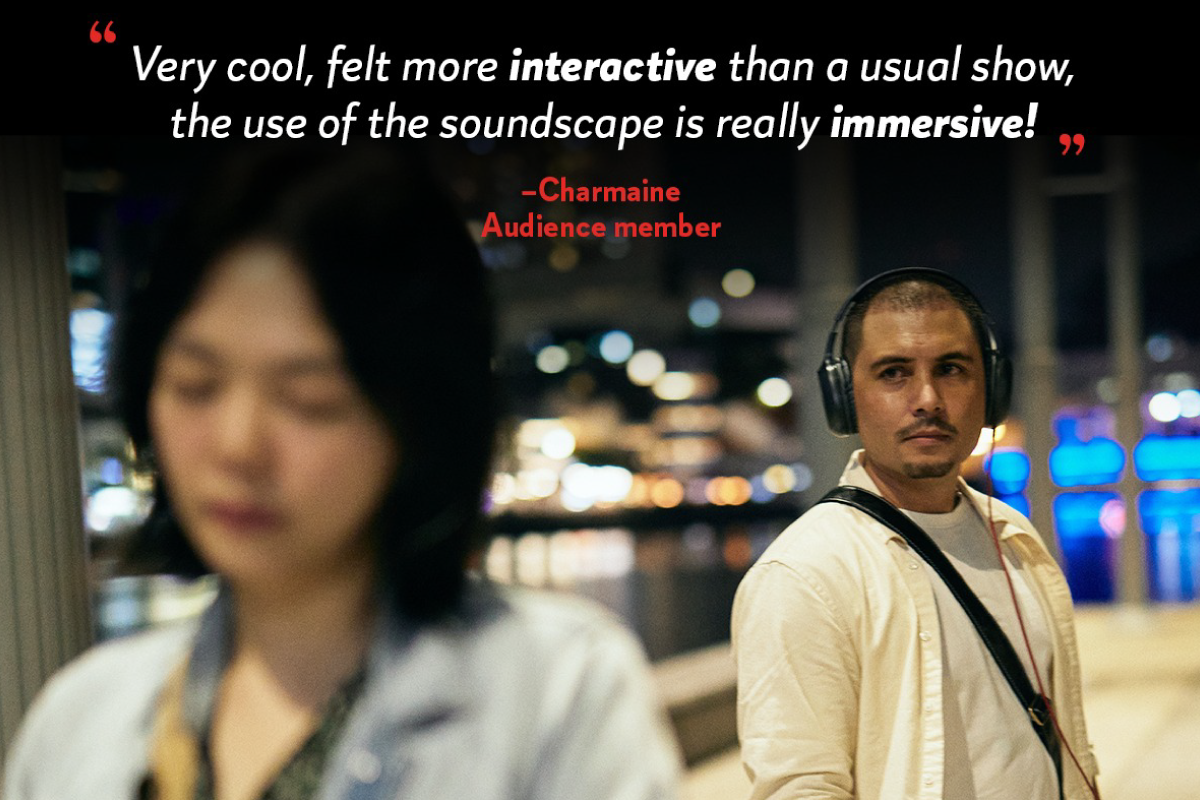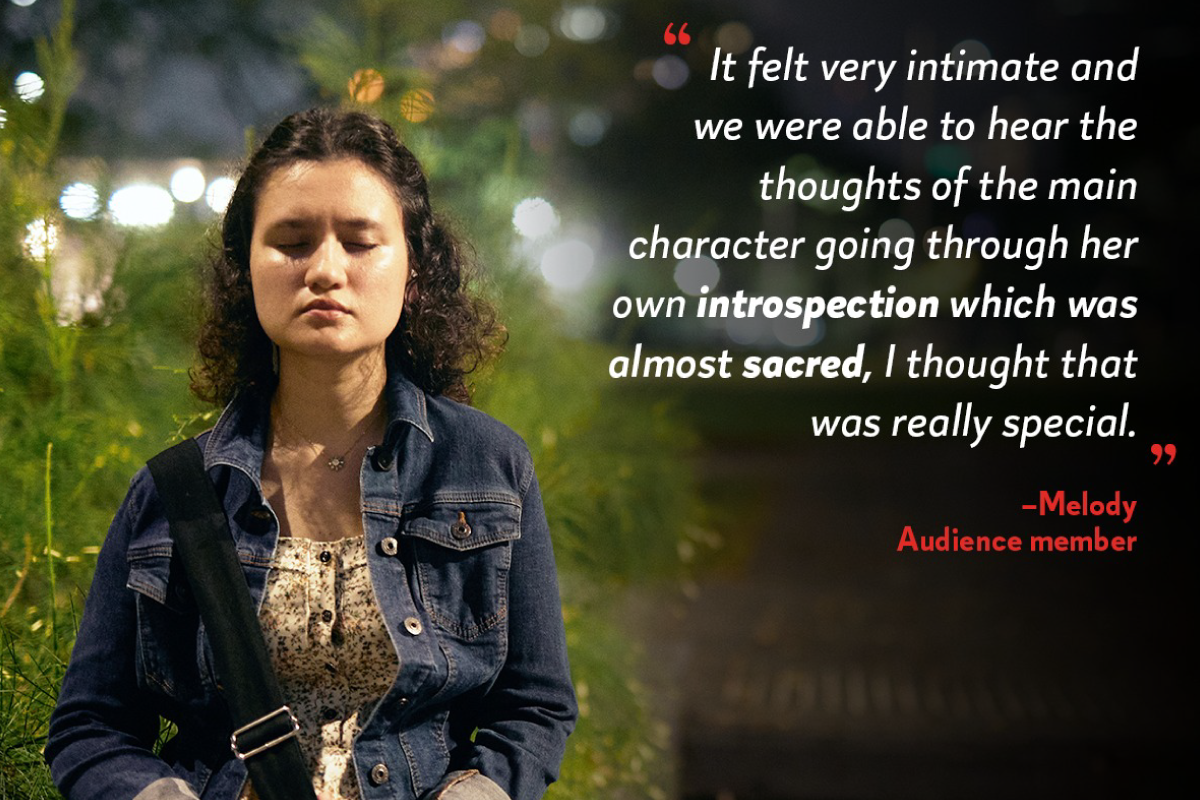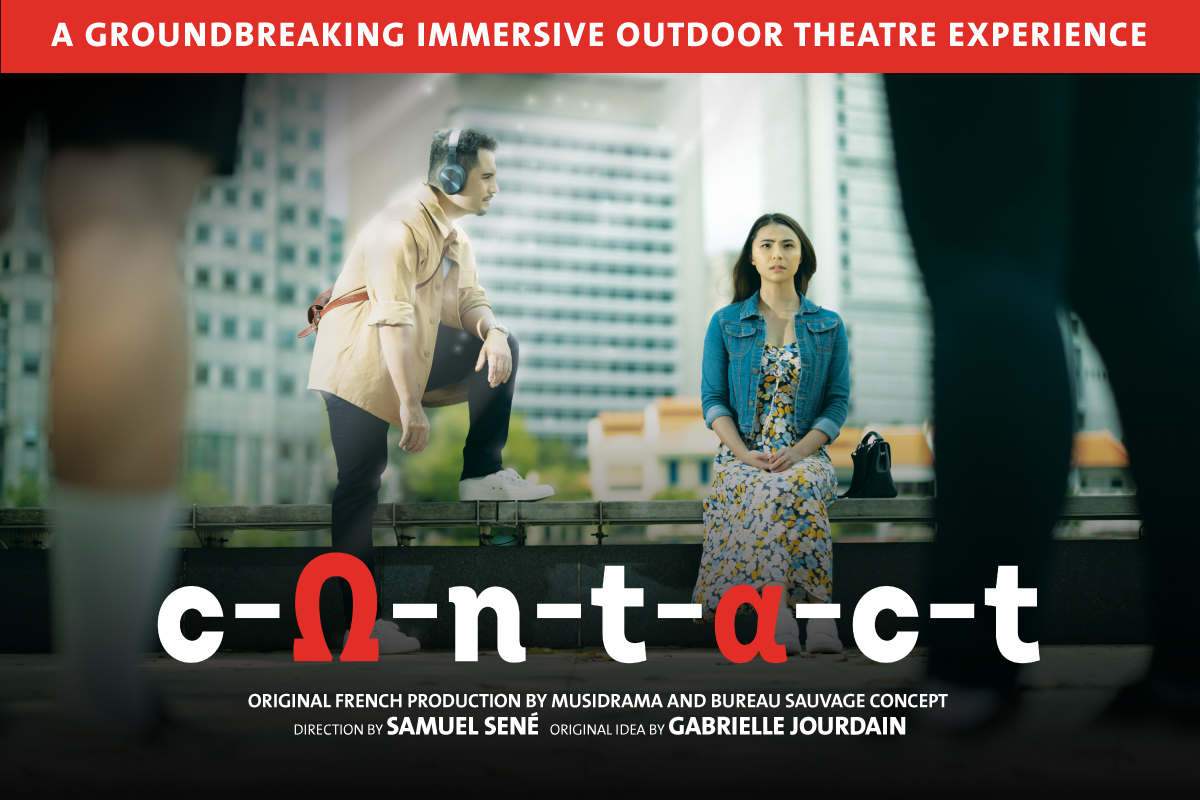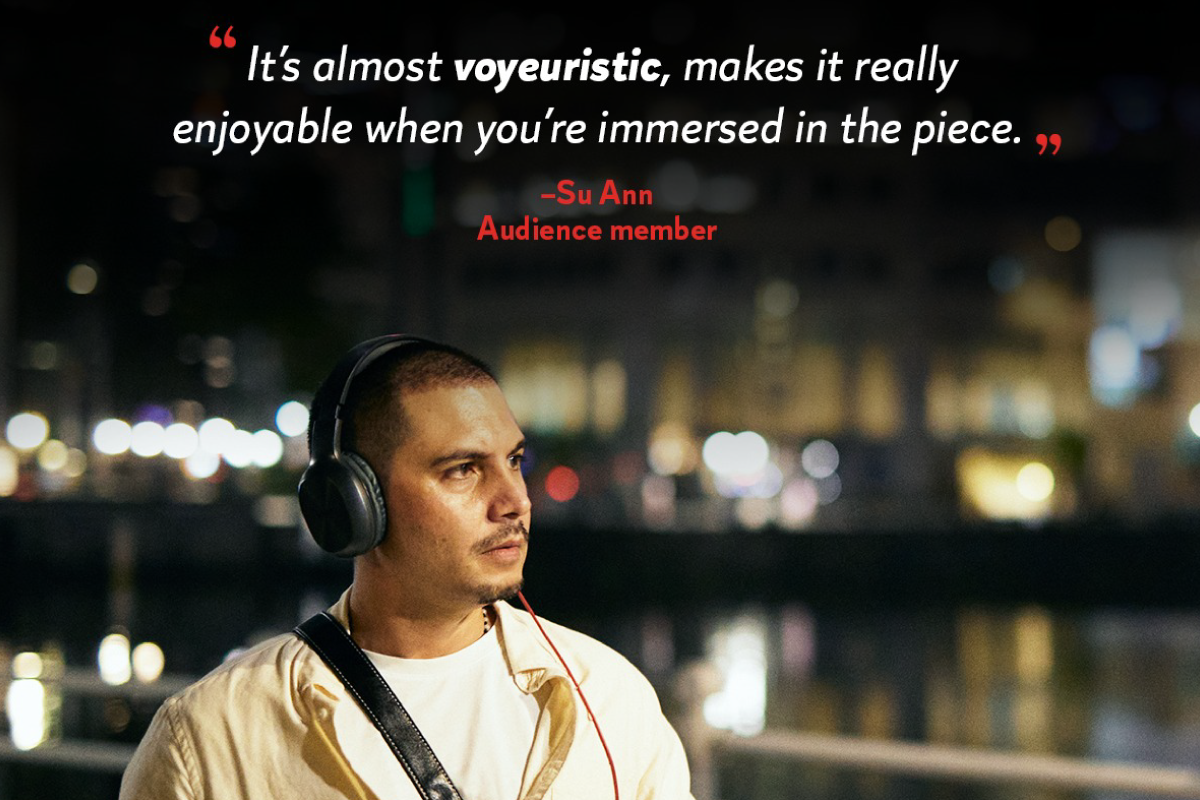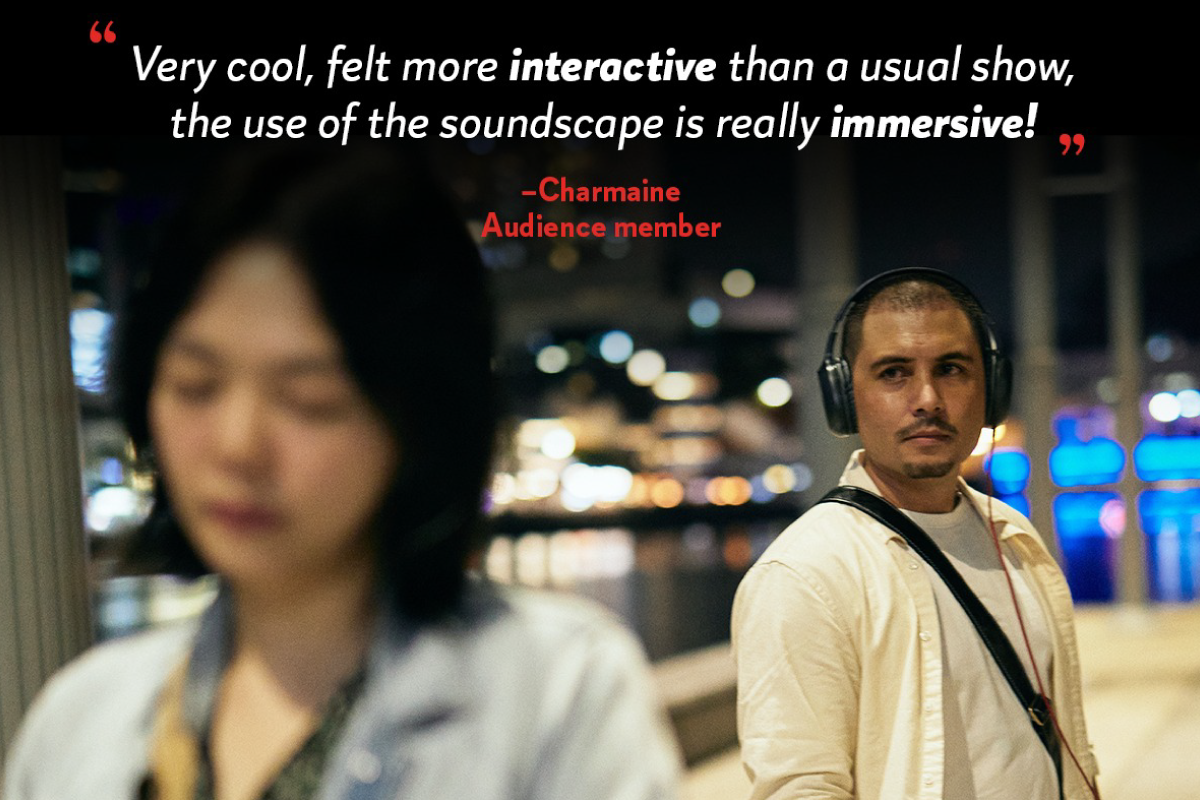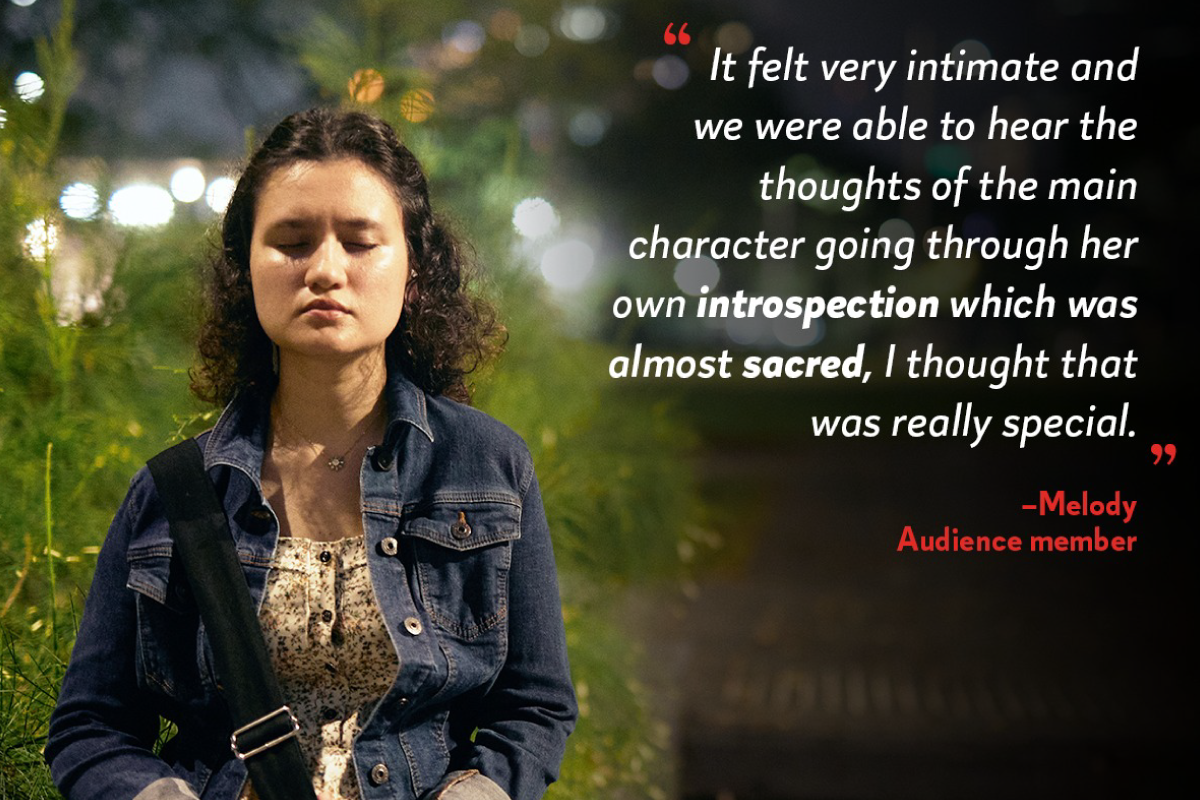 A young woman sits alone on a park bench, lost in her own thoughts. What is she thinking?
In a world where social distancing is the norm, Sarah is approached in the street by a stranger passing by, who turns out to be much more than he seems. In 50 minutes, Sarah's life will be forever changed by this extraordinary moment of C-O-N-T-A-C-T. A beautiful story of love, loss, catharsis, and redemption.
C-O-N-T-A-C-T finally reaches Singapore after its world-premiere in Paris in 2020 followed by a whirlwind tour of the United Kingdom, Switzerland, Italy, Sweden, Greece, Netherlands, Belgium and Canada.
Become totally immersed in the world of our characters, as you plug into this joyous, poetic and liberating experience, literally. Delivered via an app created especially for this exciting new show, you will be swept-away by state-of- the-art 3D sound design as you use your smartphone and headphones to navigate the performance. Walk the path with the performers and share their sensations and thoughts, as the action unfolds before your eyes.
This 'charming' (Time Out), 'gripping' (The Guardian) and 'magical' (The Arts Desk) production pushes the boundaries of what live theatre can achieve, allowing us to redefine what 'performance' means to us, and ultimately encouraging us to fall in love with theatre all over again.
​"A TANTALISING VISION OF A NEW KIND OF THEATRE" – The Times
"DELIGHTFUL. AN INSPIRED PIECE OF THEATRE" – The Guardian
Starring Chanel Ariel Chan, Keagan Kang, Rebecca Ashley Dass, Vester Ng and voice actors Brendon Fernandez and Shu Yi Ching.
Concept and Direction by Samuel Sené
Original Idea by Gabrielle Jourdain
Book: Eric Chantelauze
English Adaptation: Quentin Bruno
Music and Sound Design: Cyril Barbessol
App Development: Jean-Philippe Marie de Chastenay, Touaregs
Dramaturgy consulting: Hanna Lasserre
Associate Producer: Aria Entertainment and WEF Productions on behalf of Contact Show UK.

The roles of Sarah and Raphael were created by Inès Amoura and Jacques Verzier in Paris, 13th June 2020.
---
Promotions
15% Early Bird Discount
For 29 Apr to 15 May 2022 performances only
Early Bird Special ends 5 April 2022
$15 YOUth Ticket by Bloomberg Philanthropies
Limited tickets available for:

1 & 5 May, 9pm performances
8 May, 6 pm & 7.30pm performances

Patrons must be Singapore citizens.
Patrons must be aged 15 years to 25 years old.
Limited to two tickets per transaction.
Checks on concession tickets will be conducted at the point of entry. Those who do not present proof of eligibility will not be admitted.
Corporate or Group packages
Contact Charlotte at charlotte@srt.com.sg for information on exclusive discounts and other corporate/ group benefits.
---
What To Bring
Bring your headphones and smartphone that has the C-O-N-T-A-C-T App downloaded. Please make sure the battery is sufficiently charged as the experience is approximately 50 minutes.
Make sure that your data plan allows you to have your 3G/4G activated at all times to stay connected to the audio stream of the application.
Remember to charge and bring your smartphone and headphones (you will not be allowed to put your phone on loud/speaker mode).
The "C-O-N-T-A-C-T" app works on phones with the iOS and Android operating systems. Click on your preferred operating system below to download the app
---
Admission Rules
Rating/ Age Limit
Advisory (Some Mature Content & Coarse Language)
All patrons, regardless of age, must purchase a ticket for admission.
Latecomers Advisory
Latecomers will be notified by SMS on the next meeting point.
Dress Code
C-O-N-T-A-C-T is an entirely outdoor experience so we suggest that you wear comfortable walking shoes and dress appropriately for the weather.
We also recommend that you bring an umbrella in case it rains during the performance.
Photography/ Video Recording Rules
Photography, Video Recording and Audio Recording are strictly prohibited during the performance.
---
ACCESS PROGRAMME
Audio Described Performance Available For All Performances
An Audio Described performance is for patrons who are Blind or Vision Impaired, who require the theatre performance to be described by a trained Audio Describer. The performance is verbally described and transmitted to the audience members through their own mobile phone device with earphones.
Click here for the Audio Described Pre-show notes (Audio Version).
Click here for the Audio Described Pre-show Notes (Text Version).
Please contact SRT's Box Office at boxoffice@srt.com.sg or 6733 8166 for more enquiries and/or ticket purchase for the Audio Described Performance.
---
ADVISORY ON COVID-19
Masks are encouraged but optional for this experience
---
Be Our Friend
For the latest SRT news and to be the first to find out what shows are coming up next, like us on Facebook and follow us on Instagram. To enjoy benefits like complimentary tickets, click here to become a Friend of SRT.
Event Date

From 29 April 2022
Tuesday - Sunday and Public Holidays:
6pm, 7.30pm & 9pm
Venue
The Arts House, 1 Old Parliament Lane
Ticket Pricing

$38 per ticket 
Duration
Approximately 50 minutes
Rating
Advisory (Some Mature Content & Coarse Language)
Recommended for 12 year olds and above
Available in 5 different languages:
Greek, Italian, Dutch, French, and English.