​​​​​​Daniel Slater has directed sixty productions in seventeen countries all over the world and last directed SRT's Shakespeare in the Park – Romeo and Juliet in 2016. He will be back in Singapore in February 2020 to direct The Lifespan of a Fact. He shares how US President Trump's election has shaped the way he views this play about facts and truth.
Q1: The Lifespan of a Fact is essentially an overly enthusiastic intern, given this one job to fact check an essay by a celebrated author, discovered several discrepancies and decided to confront the author. Or is it? What is The Lifespan of a Fact for you?
Daniel: William Goldman, the wonderful Hollywood screenwriter who died a little over a year ago, asked two fundamental questions of any script:
• What is it about? In other words: what is the basic story?
• What is it really about? In other words: what is the main theme of the piece?
I'm taking this first question to be the former and the second (below) to be the latter! For me, The Lifespan of a Fact is about a magazine editor, Emily Penrose, who greatly admires an essayist, John D'Agata, yet is wary of the "little liberties" he takes. So, she asks a smart and enthusiastic (perhaps not overly so!) young intern, Jim Fingal, to fact-check John's latest essay, a piece ostensibly about the suicide of a young man, Levi Presley, but more broadly about Las Vegas and more broadly still about the way American urban life can alienate and drive people to desperate acts. Jim, keen to impress Emily and make his mark at the magazine, leaves no stone unturned and immediately discovers that almost nothing in John's essay corresponds to anything that we might call a "fact". What appears at the outset a simple task becomes so complex that Emily realises she needs to stop acting as the middle woman and instead gets Jim to write directly to John. But the essayist takes less than kindly to this young intern's questions and, in fact, it is initially John who confronts Jim, basically accusing him of nit-picking. But Jim isn't cowed and refuses to back down: indeed, he flies to Las Vegas and doorsteps John. In the course of the conflict that ensues, Jim discovers his voice — a fundamental belief that facts should not be twisted to suit ends, however noble. The conflict proves so unresolvable that Emily is forced to fly over from New York to adjudicate, to decide between where Jim is splitting hairs and where John is taking larger-than-little liberties. All of which makes the piece sound rather po-faced, yet it's not at all: at its heart, The Lifespan of a Fact is a sharp, character-based situation-comedy.
Q2: With all that is happening in society – alternative facts, fake news, Trump calling the media "enemy of the people" – people are coming to believe that nobody is giving them the facts, and everybody can make up their own script and their own narrative. What does this mean to you and how is this reflected in your directing of the play?
Daniel: There is no doubt in my mind that, had Trump not been elected, my attitude to this play would be fundamentally other. Instinctively (perhaps because I've also done a fair amount of writing), I would have sided with John's belief that there is a poetic truth that lies deeper than mere facts, and that slavish adherence to those facts can actually obfuscate our view of that truth. But when one of the most powerful people in the world propagates such an unprecedented number of falsehoods (then often denies having done so) that it can best be termed a campaign of disinformation, then facts start to seem extremely precious. It is perhaps no coincidence that the Brexit referendum, happening in the same year as Trump's election, was similarly dominated by constant repetition of false or misleading statements. Like the US, the UK now has a leader who has been elected despite a large majority of voters distrusting the truth of his statements — and with both men the situation appears to be getting worse. So, I'm aware that, as I prepare to travel to Singapore to direct this play, my John-Jim sympathies are more equally balanced. John's essay is beautiful and speaks of a deep-seated malaise in the American urban experience; it's a piece of art, not a political statement, and art has never claimed — and should never claim — to be feeding its audience with facts. But what Jim comes to believe is that there are times when riding roughshod over factual accuracy can disrupt the communication of what John sees as the truth about Levi Presley and Las Vegas. What I want the audience to witness is the clash of two opposite, absolutist beliefs — two people so diametrically opposed that even Emily, with all her wisdom and experience, struggles to reconcile them. And in the midst of this clash, I want the audience to remember that there is another man at the heart of this story: the young Levi, whose motivation for throwing himself from the Stratosphere Tower is what John's essay — and by extension the play — seeks to understand.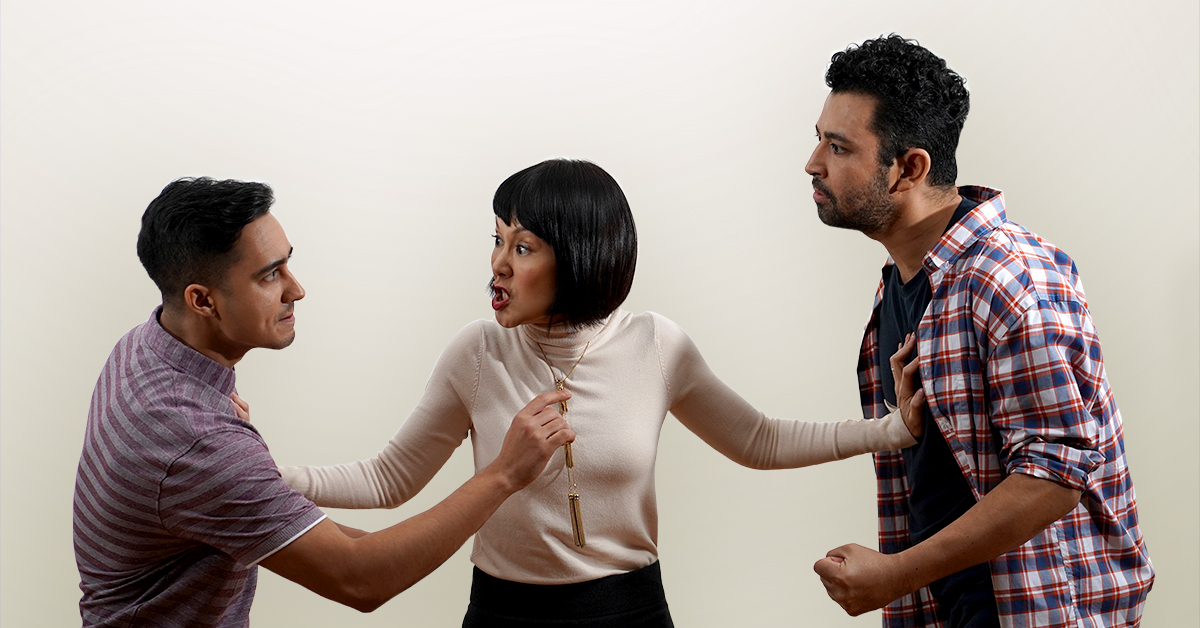 The cast of The Lifespan of a Fact (from left to right): Jamil Schulze, Janice Koh & Ghafir Akbar.
Q3: What do you think will be your biggest challenge directing this play in Singapore?
Daniel: I think the obvious challenge is presenting a drama about facts and truth — especially in the media — in a country where the main papers are published by a company with government-appointed shareholders. I want to state at the outset that the concept of a free press is rather nebulous: Singapore may be ranked 144th in the world press freedom index, but the UK is down in 33rd place. Press freedom in Britain often equates to the rights of rich owners dictating their political beliefs to the editors they appoint, hence the front page of the Daily Mail labelling high-ranking judges "Enemies of the people", simply because they argued Parliament, not the Prime Minister, had to decide the handling of the UK's withdrawal from the EU. So, I don't believe ours is any kind of model of free press and we certainly have no right to preach, but I'm curious to know whether fact-checkers exist in Singapore. Is there a Jim Fingal working at the Straits Times? Perhaps someone will let me know and, if he or she exists, I hope I'll be able to meet them during the rehearsal period!
Q4: Why should people in Singapore come and watch The Lifespan of a Fact?
Daniel: Following on from what I said above, I hope that people in Singapore come because they are engaged by the topic — they want to explore questions of truth and facts, as well as to ponder the extent to which the latter is essential to the former. Perhaps, having seen it, they'll never read a newspaper or listen to a news report — let alone a politician — in quite the same way again.
Q5: And finally, what is the one takeaway you want the audience to take with them?
Daniel: Question everything.
The Lifespan of a Fact plays at the KC Arts Centre – Home of SRT from 25 February 2020. Click here to book your tickets now.