SRT will be presenting a Rehearsed Reading of Jean Tay's Boom on Facebook Live. But before that, we chat with Chua Enlai and Andrew Marko about their favourite moments in Boom as well as their personal stories about en bloc sales and supernatural hauntings!
Q1: Enlai, you were in the 2008 stage production of Boom. How is it like to revisit this play in 2020?
Enlai: It's been a whole cycle in the Chinese zodiac since Boom premiered. And a few years before that, I'd performed in Jean Tay's Plunge. It all feels like a long time ago. Now with our lives turned upside down by this virus, is it boom time or are we plunging into something unknown?
Boom was a response to what was going on in those years of booming business, rapid development and unashamed upgrading - it'll be interesting to perform it again and to see whether things have changed for the better or for the worse.
Andrew, have you read Boom before this? How do you feel being in this rehearsed read?
Andrew: I have read this and have seen it performed live before and it's one of my absolute favourite local texts. I'm very excited to be a part of this. I think it'd going to be a very interesting event.
Q2: Could you share your favourite line/moment from Boom?
Enlai: When Mother talks about the walls of her home, about licking the walls and tasting her sweat and blood. It's kinda gross but you really do feel it. What is home to us? Sure, we have a patriotic song called Home, but in a city that rarely appreciates its architectural history and has a relentless desire to upgrade by wiping the slate clean, Mother's story is a very meaningful one.
Andrew: My favourite moment in the play is when the father comes back to the mother in her dream. She asks him, "How did you know I would be here?" and he replies, "Where else would you be?"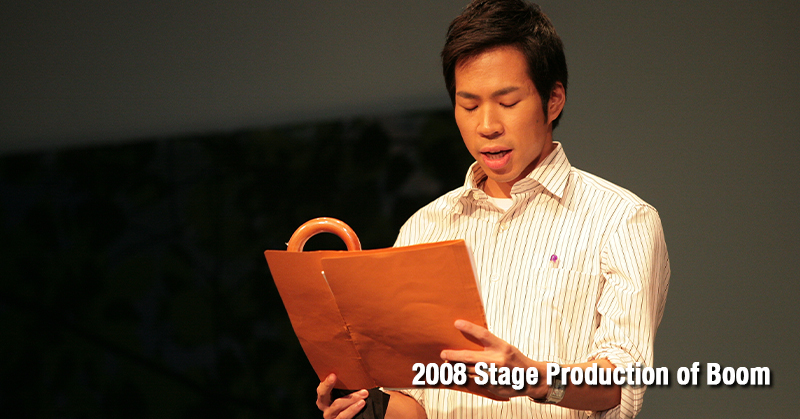 Chua Enlai will reprise his role as Jeremiah in the Rehearsed Reading of Boom
Q3: How has it been like rehearsing over Zoom? What's the biggest challenge?
Enlai: What's interesting was that many choices we made in the first production were dictated by an injury I'd sustained after I put my foot through a glass door in my villa in Phuket just before we started rehearsals.
On Zoom, we face a different kind of restriction. We are not even in the same space and the voices of my co-actors are channeled through headphones. It's been bizarre rehearsing. It's more like acting for film. You perform towards the camera instead of your fellow actors. Listening to my co-actors through the headphones feels like I'm doing voiceover. It is very intimate. Performing from my home is very distracting. I'm always tempted to walk off halfway and make myself a G&T. Having to deal with the technical set-up on my own makes me miss the production crew even more. They are normally the ones creating magic behind-the-scenes. Now you've got to rely on me making sure everything is plugged in.
Andrew: It's definitely been a little strange. I'm used to being physically present with other people in the room and making eye contact with my fellow actors but this time, I'm staring into a little black dot on the top of my computer screen so that's something to get used to. I guess for me the biggest challenge is finding the reciprocity with the other characters and having to remember movement directions without having any visual cue whatsoever to help me. It's a bit like trying to act on a phone call.
Q4: Any interesting personal stories to share about en bloc sales or supernatural hauntings that are reflected in the play?
Enlai: The lines of the real estate agents from Boom have stayed with me throughout the years. I actually kept thinking of them when I was purchasing my home. The up-selling of dream homes, the language of exaggeration and the name-dropping. I actually checked whether my pad did come with Laufen Alessi toilet bowls!
Also, when I was little, I used to live on Sime Road, near Bukit Brown. The neighbours and I would play and cycle in the neighbourhood. We were never scared of the cemetery nearby. It was peaceful. I think Crimewatch was scarier.
Andrew: I absolutely love the paranormal. Since I was a kid, I've always been fascinated by ghosts, spirits and other inexplicable things (like why does my wifi not work sometimes) and now as an adult, I'm very drawn to the idea of the spiritual realm and energies that can interact with the physical world. My most recent run-in with the paranormal happened many years ago in the army. I had gotten up to go to the toilet in the middle of the night and on my way to the bathroom, I saw one of my fellow platoon mates enter the toilet in front of me. As the door in front of me slowly swung shut, I thought to myself "oh good someone else is going to the toilet. At least it won't be that scary and I won't be alone." But when I went into the toilet, there was nobody there.
Q5: How're you keeping busy during this Circuit Breaker? Any tips to share on how we can keep busy and sane?
Enlai: I'm quite happy staying at home. It's like a holiday. Usually, when on a break from work, I'd travel. But traveling can be quite tiring too. This is great reason to do mundane things like filing and spring-cleaning.
I've been Marie Kondo-ing and have uncovered archaeological artifacts within my bedroom. I've found pleasure in the ordinary and mundane!
Andrew: I have many different activities and routines that I switch around on a weekly basis. I do yoga, I meditate, I go cycling, I take Masterclasses, and most recently, I've started doing Tai Chi. I would say... Don't put any pressure on yourself to do anything productive. If you feel like you need to be a slob then be a slob. Try doing things you've never done before. Most importantly, if you have any anxiety, feelings of despair and/or loneliness, don't fight it. Sit with it. Let it come, let it be, then let it go. Everything that happens is exactly how it's meant to be.
The Rehearsed Reading of Boom will be on SRT's Facebook Live on Friday, 5 June, 8pm. Click here to find out more.