Save Our Shakespeare (SOS)
As you may know, we had to cancel our plans for Shakespeare in the Park in 2017 due to lack of financial support.
We embarked on a crowdfunding campaign to get more thespians involved in Saving our Shakespeare (SOS) and many have heard our appeal for support. This has encouraged us to take the bold decision to go ahead with another Shakespeare in the Park production - Julius Caesar this coming May.
The GOOD news! We have reached our target of $100,000, but we still need your support to close the gap to help minimise the loss of the production. We are so grateful to those who have donated - and we encourage more to do so. It really does matter that we keep our local arts scene thriving. Theatre is about time with loved ones, time to unwind and be inspired and time to open minds and broaden perspectives.
Help keep Shakespeare in the Park alive. Make a donation at giving.sg today!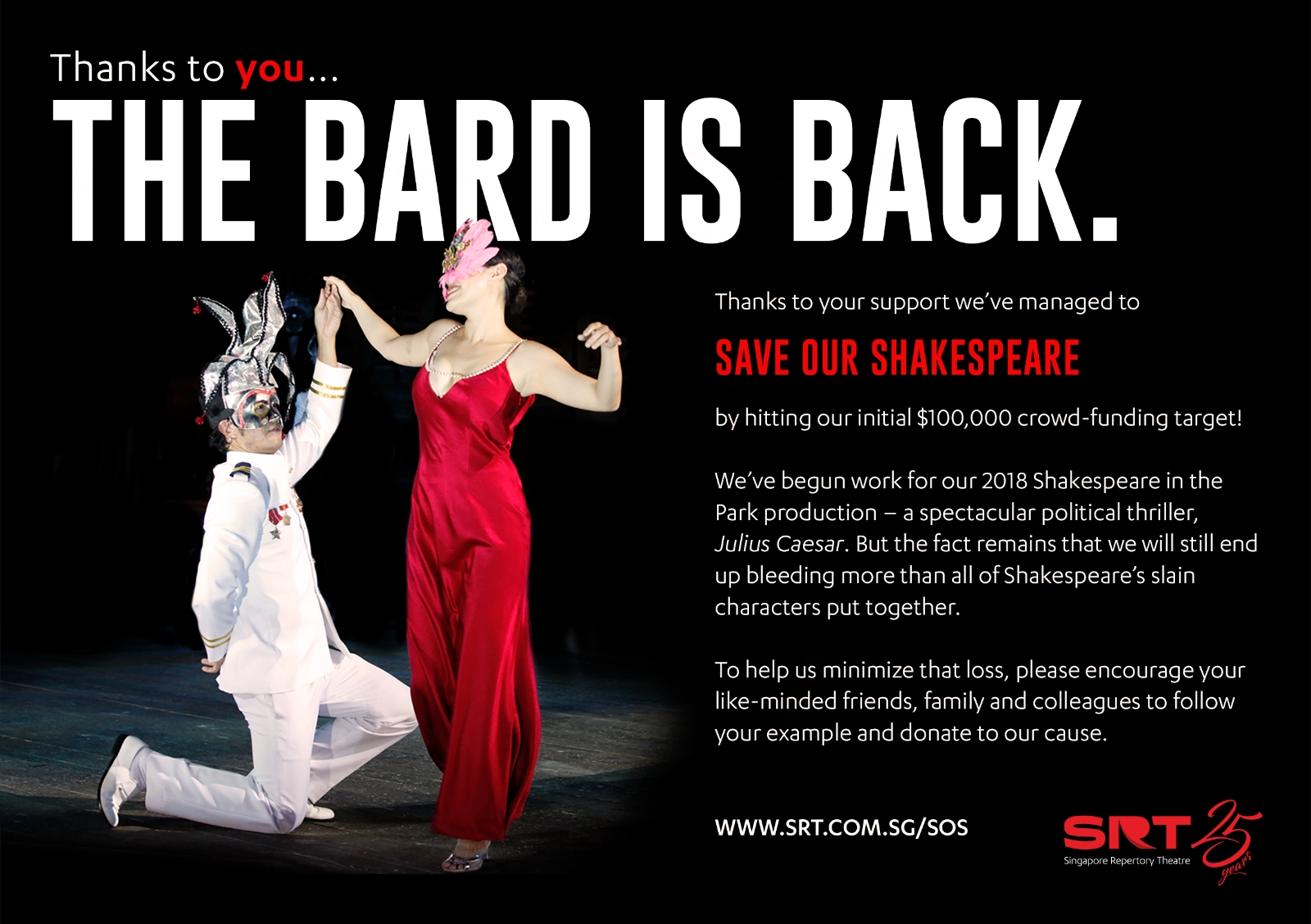 ---
Fundraising Events
As a non-profit organisation, it is imperative for SRT to raise funds in order to continue producing productions of the highest calibre, and to keep the company running on a day-to-day basis. SRT organises several high-profile fundraising events every year, ranging from celebrity concerts, prestigious costume balls to gala benefit dinners.
We are grateful that many prominent individuals of Singapore society volunteer their time and energy to sit on the organising committees for our various fundraising events.
SRT's fundraising events are also an excellent platform for any corporation wishing to target specific target audiences to launch or re-brand their products; to entertain their clients; or to invest in highly visible community relations.
To find out how your company can be involved in our fund-raising events, please contact us via email at office@srt.com.sg or call us at 6221 5585.