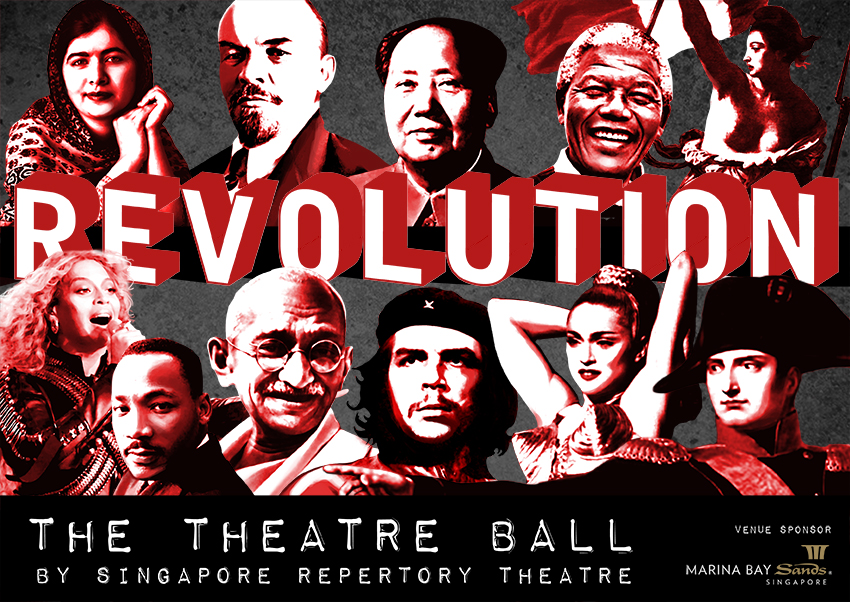 2018 is an exciting year for Singapore Repertory Theatre (SRT) as we celebrate 25 years of staging quality theatre that has inspired and entertained over a million theatregoers.
With the help of amazing supporters like yourself, SRT has come a long way from our humble beginnings. Our 25th anniversary season is testament to this with three blockbuster productions. These include a partnership with the National Theatre of Great Britain; the return of Singapore's biggest and most loved outdoor theatrical picnic event; and the world premiere of an original Made in Singapore musical.
2018 will also see the launch of brand new community initiatives using drama-based learning to enrich the lives of those in our community who comes from less privileged backgrounds.
The support of patrons like yourself has been truly vital in enabling us to reach our goals, so we humbly invite you to join us at our annual Charity Ball. The theme for this year's ball is:

Saturday 24th February 2018 | Marina Bay Sands
The Theatre Ball by SRT is regarded by many as THE party of the year. This year's Theatre Ball, REVOLUTION, will celebrate the momentous, pivotal and unavoidable reality of great change. A suitable theme for the transformative power of theatre, which we need more than ever in our volatile world. We are grateful that Marina Bay Sands has come forward yet again to sponsor the Ball, which serves as the most important fundraising activity for SRT.
Indulge in an unforgettable dinner and dance the night away with new and old friends for a good cause.
Even though costs have risen annually due to inflation, ticket prices have stayed fairly constant for the past decade. The Theatre Ball helps us to continue to offer meaningful, high calibre theatre to a diverse audience. The funds raised will help us groom and nurture the next generation of actors, directors and designers. Proceeds from this year's Ball will go to a variety of initiatives including the SRT Student Education Fund – which endeavours to give children from lower income families the opportunity to experience the magic of theatre.
Highlights from The Lovers Ball (2017)
Your support is invaluable to us and we kindly request it in one of three ways: purchase a table, individual seats or make an outright donation. SRT is a non-profit charity with IPC status, so your donation will be eligible for a 250% tax deduction. Your patronage will greatly assist SRT in achieving its goal of helping to contribute to the vibrancy and cultural-richness of Singapore.
We look forward to leading a revolution with you to benefit a great cause on 24th February 2018.
To book a table or individual seats: please contact deborah at debbie@srt.com.sg
---
Fundraising Events
As a non-profit organisation, it is imperative for SRT to raise funds in order to continue producing productions of the highest calibre, and to keep the company running on a day-to-day basis. SRT organises several high-profile fundraising events every year, ranging from celebrity concerts, prestigious costume balls to gala benefit dinners.
We are grateful that many prominent individuals of Singapore society volunteer their time and energy to sit on the organising committees for our various fundraising events.
SRT's fundraising events are also an excellent platform for any corporation wishing to target specific target audiences to launch or re-brand their products; to entertain their clients; or to invest in highly visible community relations.
To find out how your company can be involved in our fund-raising events, please contact us via email at office@srt.com.sg or call us at 6733 8166.