A SEUSSICAL THEATRE STAGE
Working with a professional educator, Theatre STAGE takes the participants on a journey into Storytelling using actor training and theatre techniques. In this workshop, the young performers will get a chance to step into the captivating world of Dr. Seuss.
Through the process of devising, your child will experience theatre games, learn and practice various drama and poetry skills and make new friends while growing in their confidence and improving their communication skills.
Come join us for a summer of Seuss which culminates in a devised presentation at the end of the week for friends and family. This programme is perfect for young people who have experienced theatre before or taking the first steps into drama. Team building, actor skills and lots of drama games, makes for a week to remember.
Date:
11 – 14 June 2018
26 to 30 June 2018
Time:
1.30pm - 4.00pm
1.30pm - 4.00pm
Venue:
KC Arts Centre - Home of SRT
20 Merbau Road
Singapore 239035
Havelock II, Rehearsal Room
2 Havelock Road, #04-03
Singapore 059763
Recommended for:
7 – 12 year olds
7 – 12 year olds
Cost:
$280 per pax (4 days due to 15 June being a public holiday)
$350 per pax
ABOUT THE FACILITATOR – Kimberly Arriola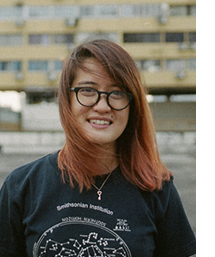 Kimberly is a graduate of the Royal Central School of Speech and Drama with a Degree in Drama, Applied Theatre and Education and an alumna of Singapore Polytechnic's Diploma in Drama, Applied Theatre and Education. Having completed her studies, Kimberly now works as an applied theatre practitioner who greatly believes in bringing the arts into the local community, as evident through her past endeavours working with like-minded social and educational institutions such as SPD, Babes, the National Library Board and the National Institute of Education.
At present, Kimberly is working towards her aspiration of becoming a writer, having been a part of Checkpoint Theatre's Playwriting Masterclass and SRT's Young Company Writing Programme. Since then she has staged her first play, Curry Puff, which was part of The Twenty Something Theatre Festival.
To book a place in Theatre Stage for your child, please sign up here or contact Reginal at 6221 5585 or learning@srt.com.sg.
"It was absolutely heartening to see him enjoying himself on stage and following along the actions (he has never done so in kindergarten performances). He can't wait for his younger sibling to be able to join STAGE Camp as well!" – Parent Feedback, Dec 2017