Current & Upcoming Programmes
Industry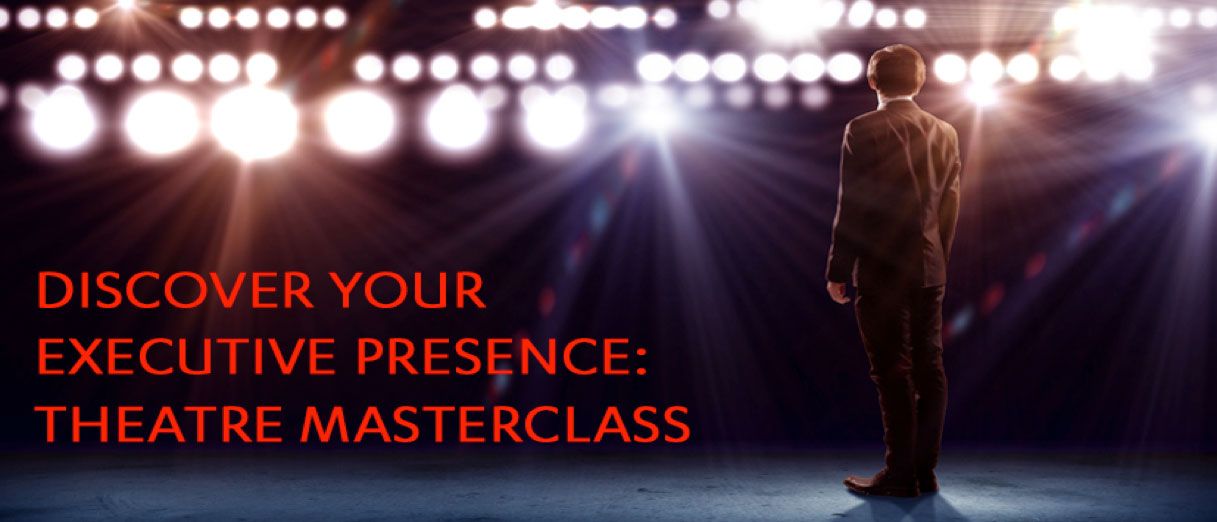 In Partnership with

Step into the spotlight and discover your executive self
As leaders acquire larger teams, bigger portfolios and broader regions they need to 'own' their own space and know how to influence and inspire. They have to be aware of the impact they have on people, understand what helps and hinders them in communication and be comfortable and effective with a seat at the Board Room table. The Discover your Executive Presence: Theatre Masterclass tackles these very real requirements head on and in a unique way. Held exclusively at the Singapore Repertory Theatre, participants will work with theatre professionals and executive Coaches to explore develop and master their executive presence.
Why does Theatre support this?
The stage is a pressured space that demands a lot from the performers being in the lights with nowhere to hide. This makes the actors great communicators; they take on a multitude of characters in many situations and have to articulate emotion, meaning and message very effectively. The Director is a great example of a Leader; someone listening, responding, guiding and ensuring the play goes on. By stepping onto the stage and putting yourself in the spotlight you are allowing yourself the time to Discover your Executive Self.
Course Objectives:
At the end of the Masterclass, participants will be able to:
Understand their authentic selves and how to create and sustain their own style of executive presence
Be comfortable in front of an audience, be it 2 people or 100 people and 'own' their own space
Recognise and use effective storytelling techniques to craft their own story that engages and inspires an audience
Manage being under the 'spotlight' and delivering a message with impact and gravitas
Influence key stakeholders in a challenging situation, maintaining composure and credibility
The Masterclass is designed to take participants out of their comfort zones in a safe and supported way. It is a transformational experience that will be remembered and the learning applied for years to come.
To bring this unique experience to a conclusion you will invite your friends and family to watch you perform your story live on stage with your very own Premiere at Singapore Repertory Theatre.
Dates:
(This is a two day course)
29 June 2017, 10am - 6pm
30 June 2017, 10am - 8pm
Price:
$1500 per pax
To book a place, contact Paul at paul@srt.com.sg or 6733 8166.
---
FACILITATORS
Paul Adams
Paul Adams is the full time Learning & Engagement Manager at the Singapore Repertory Theatre (SRT). Paul has recently joined SRT from Manchester in the UK after spending 10 years in the theatre industry working for leading charities and commercial theatre companies.
Paul has a Diploma in Musical Theatre and a Bachelors of Arts Degree in Performance from the University of Huddersfield. He has worked for many UK Theatre companies, facilitating and managing Arts Education programmes with participants across formal education, community outreach and venue based programmes. Paul prides himself in the application of theatre tools in non-traditional theatre settings, working with adults from a diverse range of backgrounds; whether that is in a self–esteem boosting workshop or a leadership enhancement programme.
"I love connecting, creating and communicating ideas in the theatre industry. My work is centred on inspiring young people and adults to engage in cultural and creative activities that will enrich and enhance their life in some way. I feel theatre is a route to engage participants in projects that allow them to see, examine and challenge the world they live and work in through artistic process and creation." - Paul Adams
Sarah Schubert
Sarah Schubert, Director of New Voice, has over 20 years experience in leadership development, coaching, facilitation and human resources.
Her career has spanned Europe, ANZ and Asia with her last role as HR Leader in ASEAN for a large MNC. Being part of the General Electric Crotonville organisation early on in her career and trained to deliver key leadership and professional skills courses, has allowed her to create a professional foundation and skill set based on excellence and best-in-class practices. Having developed and delivered numerous workshops to date, from 5dy Leadership courses to 2hrs Employee Briefings, Sarah is a well-practiced, confident and effective leadership skills trainer.
Coaching senior Leaders through times of growth, downsizing and change have been key elements of her career to date: on-the-spot coaching as challenges arise through to pro active coaching following the Executive Coaching principles. Her work with New Voice integrates elements of her expertise and each coaching opportunity is collaborative and based on agreed goals, outcomes and timelines.
She partners with businesses to implement transparent and successful communication strategies to ensure everyone is aligned. Focused on people management processes, she draws on simple Toolkits that Leaders can use in their business with immediate and lasting results. Sarah has worked with organisations such as GE, Marina Bay Sands, Towers Watson, Videojet, Johnson & Johnson, Puma, British Telecom, Digital Realty, World Vision and the Brunei government.
Through volunteer work coaching young women in job interview skills through to her time as an English Language teacher, Sarah has worked with young adults and senior leaders in different socio-economic situations and been able to excite and make the learning relevant and engaging for each audience.
Sarah has Gold LAMDA (London Academy of Music and Dramatic Art) Award, a degree in Psychology, a postgraduate Diploma in Human Resource Management (CIPD), a Diploma in TESOL, is ExtendedDISC® certified, a certified practitioner of Points of You™ and has served on the Executive Committee of the Asia Professional Speakers – Singapore Association for 3 years.
New Voice was formed to develop and provide unique solutions to everyday issues: to promote different thinking, to encourage people to view things differently, to try new approaches and change the paradigm. The team is always exploring new ways to support and guide leaders through challenge and recognise that as the world changes, so do we.